TFA & ANU ESA Virtual Information Session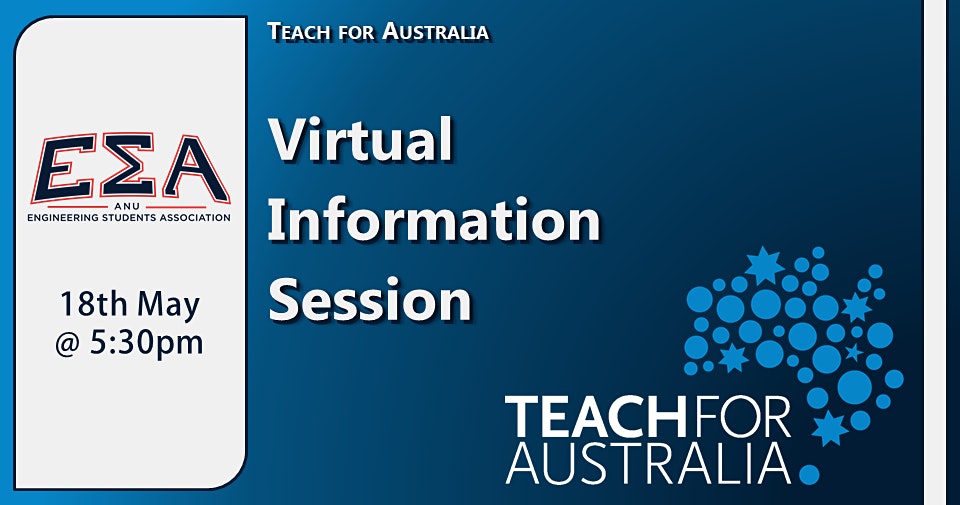 Make an impact from day one through the Teach For Australia Leadership Development Program.
Are you wondering what life post uni is going to look like for you? If you're excited about the prospect of making a real impact in the community and looking to take on a truly life-changing experience - then a place in our Leadership Development Program (LDP) could be just the opportunity for you.
At Teach For Australia, our vision is of an Australia where education gives every child, regardless of background, greater choice for their future.
To help fight the educational inequity that exists in Australia today, we recruit future leaders like you into our award winning Leadership Development Program. Our Associates come from a mix of degree and professional backgrounds, including Engineering, and undertake our 2-year scholarship Program to complete a Master of Teaching (Secondary) all while teaching in the classroom and earning a full teacher's salary.
It's not just the students who'll benefit from your impact; you'll have the opportunity to teach subject areas you are passionate about and develop and hone your leadership skills on a personal, professional, and academic level. And after the program, you'll be an exceptional leader set up for contributing to society and the broader community in whichever field you choose.
Register now for our exclusive ANU ESA & Teach For Australia's Information Session – a chance for you to ask questions and understand how you can use your STEM knowledge, skills and passion to address educational inequity in Australia as a part of Cohort 2023 (applications are now open!). You will also have the opportunity to network with the Teach For Australia community and passionate, like-minded individuals.
We are looking forward to seeing you online soon!
If you have any inquires, please contact Carolina at carolina.modesto@teachforaustralia.org with any questions or to arrange a time to speak with her.
----------------------------------------
This event is presented by Teach For Australia, an innovative non-profit in the education sector. TFA's mission is to recruit Australia's future leaders into the classroom and inspire, connect and empower them to a lifetime of action towards educational equity.
All personal information is collected in accordance with our privacy policy.
*Please note - the ZOOM link will be sent out on the day of the event*
Book Now