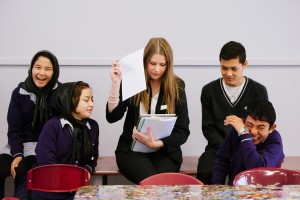 During my first months of teaching, I was acutely aware that my manner and behaviour in the classroom would have great influence on the learning environment. Whilst my outlook was (and is) that the classroom is defined by the students within it, I, as a teacher, have a central role to play in promoting values which I find important. I acknowledged, however, that fostering things such as positive interactions and enthusiasm for growth and learning amongst my students would take persistence and clear routines.
This approach sounds very clinical and at times it felt that way. When I was not teaching, I would mull through my practice and reason that while I would have probably found lining up and waiting behind my chair (as per whole-school routine) patronising as a young teenager, I also appreciated teachers who could manage a classroom. I realised that one of the key strengths of my school was the consistency that students encountered across their school day and, letting my individual opinions slide a little, followed the school rules.
It was period seven on a Thursday about midway through term two, when I came to appreciate the merit of donning the latter mantel. After a week of winter bluster and a day of rasping like a strangled ostrich I stood in front of my Year 9 German class, having completely lost my voice. As I tentatively tried to bring their attention back to the front, I had to beam with pride as students told each other to hush and listen in because, "She has lost her vooooiiiccee guys!" My students had handed me a merciful and beautiful bone, they showed their respect for me and I realised that the wonderful time had come where I could start investing more energy in addressing them as the vibrant and pulsating group of individuals they are… once I had gotten my voice back, that was!
I found this spread through to my other classes, some more quickly than others. As per the end of term one, I experienced a huge burst of enthusiasm towards the end of term two as I began to realise the potential that my rapport with the students afforded me. My teaching routine has become a lot more varied because I feel confident that my understanding of my classes' dynamics will come to the rescue should my students come roaring into period six on a windy day.
While there are challenges, it is the continuity of behaviour management across the school that has allowed workable relationships with my classes and given me the creative licence to make learning a whole lot more enjoyable for everyone involved.
Reflecting on the progress of the semester also helped me realise how much more student-centred I can make my classes. I have increasingly come to see my workplace as a collection of individuals, each with different skill sets, charm and learning needs. While, this was apparent at the start of my year, I feel like my understanding of my students has grown exponentially as I have developed a trusting relationship with each.
The cherry on top for me was the opportunity to take part in the week long Year 11 work experience camp in Melbourne in June, where I had the honour of watching my senior students flourish amongst a challenging environment. This experience only further increased my excitement for challenging myself to funnel this understanding of my students into concrete changes in my teaching. Needless to say this will be another learning challenge for me and, now in term three, I feel very lucky to embark on it.