Teach For Australia is pleased to announce our newest cohort of Associates undertaking the Leadership Development Program.
A student's postcode can radically impact their entire future. By age 15, children from the lowest socioeconomic quartile are on average three years behind in school. Educational disadvantage affects many of the students across our nation.
Through our Leadership Development Program, we partner exclusively with schools serving low socioeconomic communities, supporting them to improve student and school outcomes. Now in our ninth year, we have placed over 670 Associates – impacting the lives of over 130,000 students to date.
Over the next two years, 125 Cohort 2018 Associates will teach across 76 schools in the Australian Capital Territory, the Northern Territory, Tasmania, Victoria and Western Australia.
We are particularly excited to have deepened our footprint in Western Australia this year, strengthening our cluster of Associates in the Goldfields region, and expanding to the Pilbara and South West regions, partnering with new schools in Albany and Esperance.
In Victoria, our earliest partner state, we have increased the number of placements to the Goulbourn region and partnered with new schools in Wodonga, Mansfield and Yarram.
We are growing our cluster of Associates in Tasmania with two new partner schools in Claremont and Scottsdale.
In the Northern Territory, we have continued to partner with schools in Alice Springs, Darwin, Katherine and Tennant Creek, with 60 per cent of Associates teaching in remote schools.
In the Australian Capital Territory, our Associates will all work in schools within the Tuggeranong district, with a focus on STEM subjects.
Aiming to place Associates in clusters within schools and groups of nearby schools to increase their potential for community-level impact, we also support schools with professional development, including training for school mentors in pedagogical coaching, pastoral care and leadership development.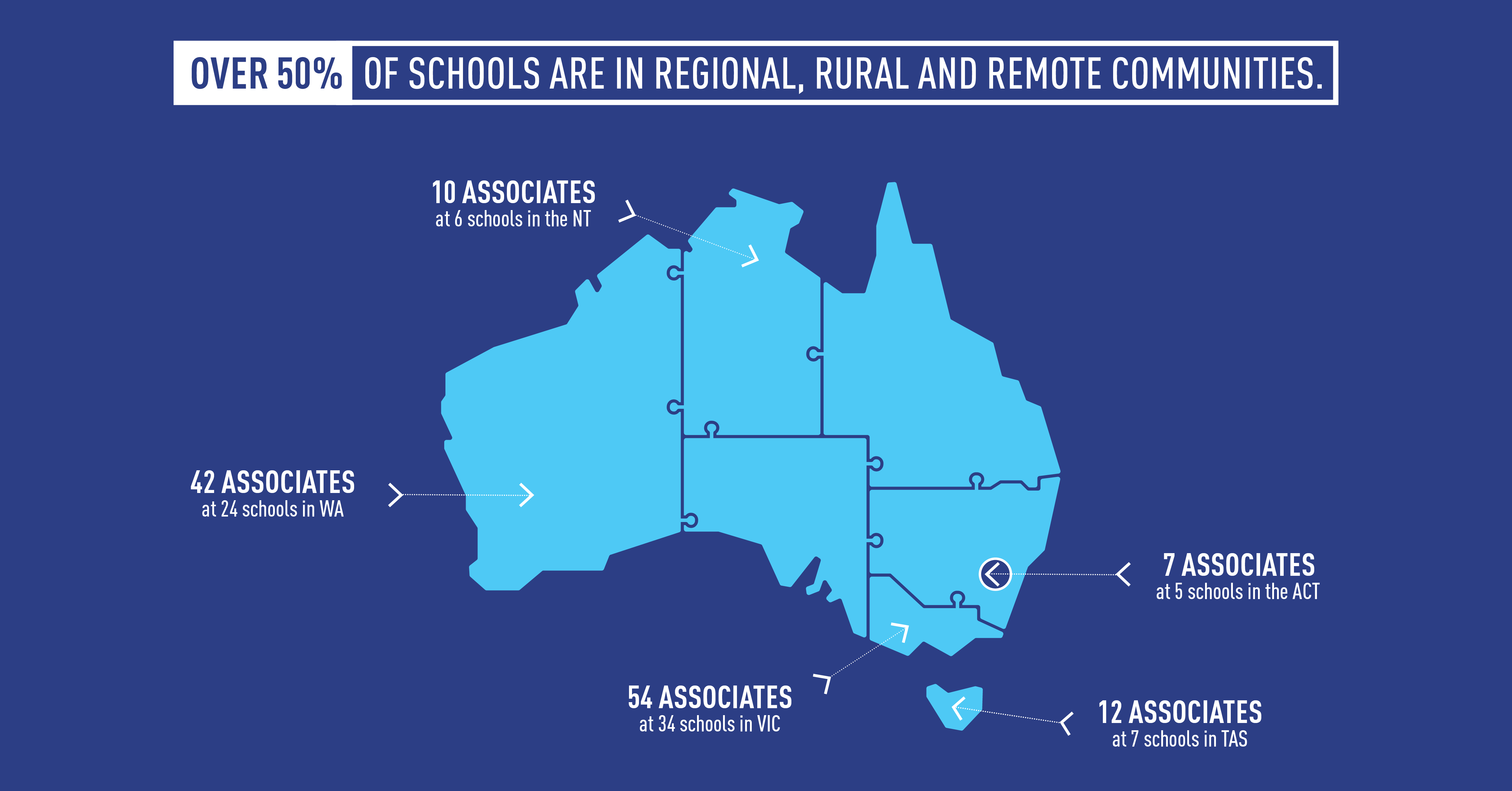 Teach For Australia recruits Australia's future leaders and inspires, connects and empowers them to a lifetime of action tackling educational disadvantage – activated by the classroom.
The only non-profit in GradAustralia's 2017 Top 100 Graduate Employers, ahead of major consultancy firms, financial institutions and government departments, we are unlocking a critical untapped source of talent for the teaching profession.
General Manager of the program leadership team, Kallie Rougos says she is particularly excited about this year's cohort, which not only includes some of the nation's top graduates, but 60 per cent of our new Associates changed careers to become teachers. "A nation should have its best and brightest working to address its most challenging problems. The two go hand in hand."
Almost 20 per cent of those Associates have professional experience in business, engineering or mining. Eight Associates have PhDs – including in Environmental Science, Physics and Engineering.
Through a rigorous multi-stage selection process, applicants were assessed against eight competencies that evidence shows are critical to effective teaching.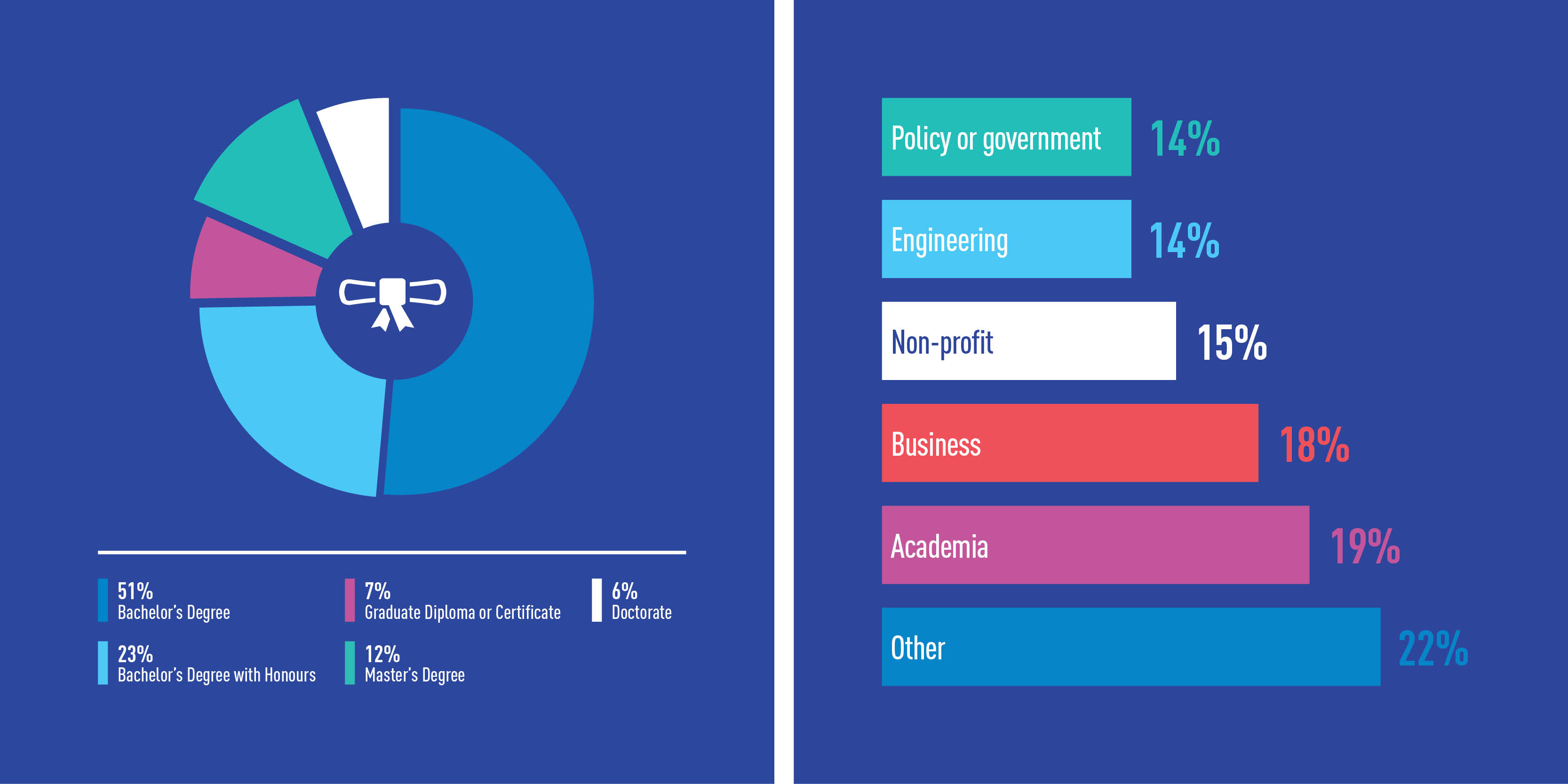 As an employment-based pathway, Teach For Australia is helping to attract harder to reach candidates into teaching, notably those with science, technology, engineering or maths (STEM) qualifications.
Within this cohort, 49 per cent are eligible to teach STEM subjects, with 19 per cent of those in the high-demand maths and physics learning areas.
While teaching, Associates will continue to progress their work to successfully attaining a Master of Teaching (Secondary)(Professional Practice).
After an extensive, competitive tender process, we are excited to be partnering with ACU for the first time this year to deliver a bold innovation in initial teacher education in Australia.
For the first time, Associates will be able to fully integrate three components – their classroom teaching, Teach For Australia leadership development activities, and Master's Degree – such that their efforts across all three domains are contextually-relevant, recognised and contribute towards their qualification.
The combined national footprint of Teach For Australia and ACU means that the program will be able to better respond to the unique contexts of our Associates and partner schools than ever before.
Together, Cohort 2018 Associates will teach over 19,000 students.
With support from their placement schools, ACU regional staff and our Teaching and Leadership Advisers, Associates will be trained and developed into highly effective teachers and leaders.
Collectively, we will seek to ensure that students taught by Associates achieve significant academic growth, experience increased access to opportunities, and develop positive attitudes, beliefs and aspirations that will propel them forward.
Associate Jerin Joseph Chethalan says, "I'm really excited to put all the strategies in place and teach. I'm as ready as I'll ever be. It's nerve wracking but I'm very excited."
For key highlights about our Cohort 2018 Associates and partner schools, read our Cohort Announcement report.