After graduating from the University of Melbourne, Lizzy Fitzgerald (Leadership Development Program Cohort 2012, Teach To Lead Cohort 2019) found herself at Shepparton High School in regional Victoria teaching philosophy to country kids including twins Grace and Claire White.
Stories caught up over drinks with Lizzy and her former students to discover that the learning lives on.
---
Lizzy: I heard about Grace and Claire before I met them. Before my placement started my mentor had arranged for me to meet some of the other teachers at Shepparton, and at that event the teachers had talked about the girls having been cast to play Tweedledee and Tweedledum in the school production of Alice in Wonderland. Everyone was saying they'd be great in those roles and they really were. They were two very clever, very capable students.
I had them in my Year 11 Philosophy class, which was the very first class I ever taught. I was young, it my first job after college, it was my first time living out of home, and all of a sudden I found myself in charge of a classroom, which was pretty intimidating.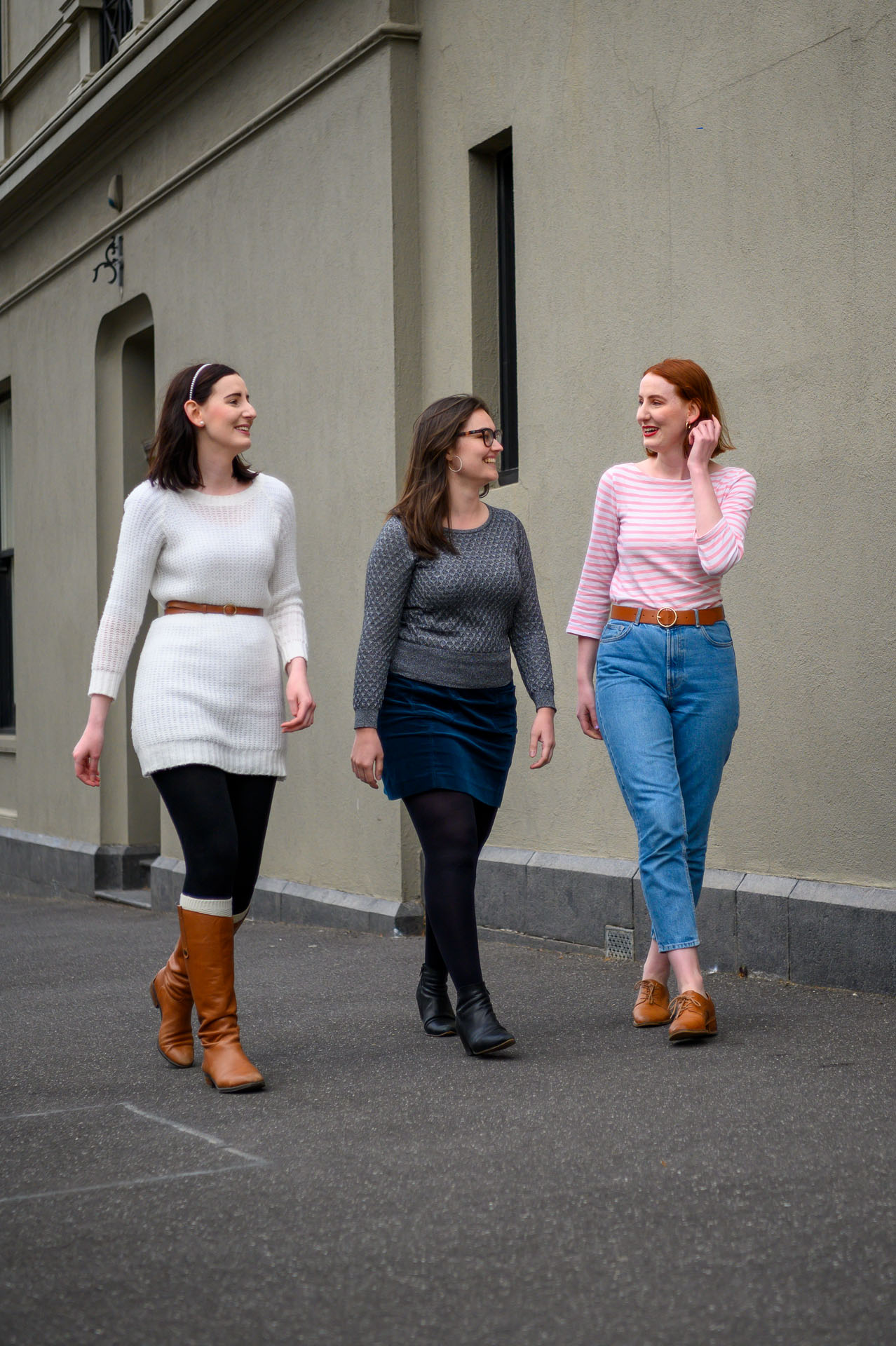 Claire: Lizzy was really energetic. I think she cared a lot about what she was doing. At our school it kind of felt like teachers had started writing us off early. Or maybe the long-time teachers had simply gotten a bit exhausted, so when Lizzy came in and was just immediately enthusiastic and caring about us and wanting us to do well that was life changing.
Grace: Lizzy taught Philosophy for both Year 11 and Year 12, and she was also my Legal Studies teacher for Year 12. I always said that Lizzy was me, if I were a teacher. She was perhaps the only teacher I felt a true connection with. Beyond myself though, I remember her being a dedicated teacher to each and every student she taught. She always took the time to make sure everyone understood the content before moving on. Our Year 12 Philosophy class only had 10 people in it, and some of my favourite memories of that year was from being a part of that class and the atmosphere she was able to create. We were like a family, and that was unlike any experience I had with other teachers at my school.
Claire: I remember what Lizzy was doing when we first had her in Year 11 Philosophy versus what she was doing in Year 12 Legal Studies. She was growing as a teacher and I could see that reflected in the way she taught me. You could tell that she was trying to figure out the best way for us to learn something, figure out issues and put in the work to teach us better all the time.
Grace: Lizzy created this extremely organised system for our content and practice questions which was amazing! I am still in awe of it today. It included colour-coding, and it actually made my classes with her the most organised notes out of all of my classes. She also introduced great methods of approaching the different types of questions we would encounter in a SAC or our exam, which made everything so much easier. I even took her method with me to Uni, and I still use it now. With Lizzy I was actually able to Dux a class, which was her Units 3 & 4 Philosophy.
Claire: I've been out of school for six years now but, yeah, I think there has been a residual impact in my life from Lizzy's teaching. That's because she took an interest in us and helped me realise that I could do whatever I set my mind to, showed me that I can make anything work for me. She made me believe I could do whatever I wanted to pursue and that wasn't something I was getting previous to that during my schooling.
Lizzy: I have been reflecting a lot lately on the impact teachers make in these young lives. I went in to the program to make an impact. I'd been volunteering with the Sudanese Australian Integrated Learning (SAIL) program during Uni and wanted to make a difference. There's a real privilege in being able to help young people who are in the most formative years of their lives – at secondary school – to build their trust, influence their learning and support them as they work towards their ambitions.
Grace: I am easily stressed, and this was especially true during Year 12. I spent many lunchtimes sitting in the Year 12 teachers' offices talking with Lizzy about my work and how I could improve to make sure I got a high enough ATAR to get in to Melbourne Uni. I have one specific memory where she taught me the difference between a growth mindset and a fixed mindset. Lizzy said she recognised that my constant seeking of feedback and improvement was a growth mindset, and I have always since worked to make sure I keep that mindset.
It was always my plan to go to Uni. However, having Lizzy as a teacher during my VCE years definitely had an impact on my goals. Being at a regional, under-represented public school there was definitely a push for students to have realistic goals when it came to their study options. We all had to include at least one TAFE course in our preferences just in case our ATAR wasn't high enough to get in to the Uni course we wanted.
It definitely felt like when it came to Shepparton High students applying to universities that La Trobe was the goal, Deakin was even better, and Monash was top rank. Melbourne Uni was an "in your dreams" goal. However, Melbourne Uni was my dream, and being the academic over-achiever I was, I would not be pushed on it. Where I felt a lack of support for my goal to study at Melbourne Uni from other teachers, Lizzy believed in me 100 per cent. She was always a strong believer that I could do anything I set my mind to.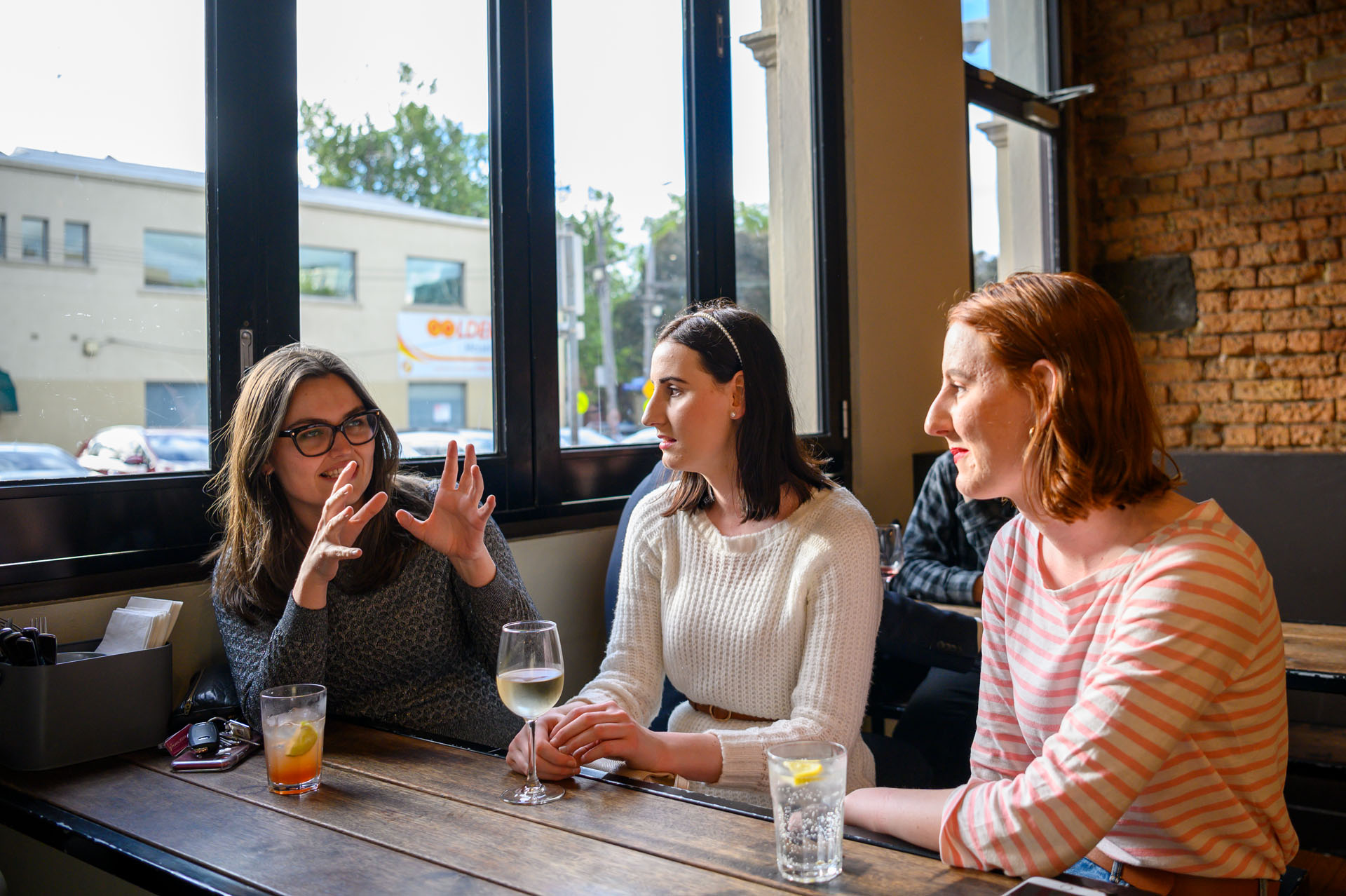 Lizzy: I've taught in a lot of schools and Shepparton High School was where I felt closest to the students. There was something about the culture of the school that meant students were more comfortable and felt open to sharing their anxieties and their challenges and asking for assistance and support. We also had a really strong Teach For Australia network at the school which I think benefited students and teachers alike.
Grace: My year level was quite the terror during the junior high school years. However, once Lizzy and the other Teach For Australia teachers (we also had the pleasure of being taught by Emlyn Cruickshank and Saul Wakerman) arrived, the attitudes of my classmates changed. They were passionate and excited to be teaching us, and you could tell that they genuinely cared. I know without a doubt there were a few students in my year level who would not have stayed at high school long enough to graduate if it weren't for Lizzy, and the TFA teachers.
Lizzy and I were able to develop a close bond, and her support continued beyond the classroom and my time at Shepparton High School. I remember on the day I received my ATAR result, it was lower than expected and I felt like my life and all the plans I made for after high school were shattering all around me. I texted Lizzy and we caught up that day at a local café and we had pots of tea and she was able to assure me that my ATAR was not the end of the world as we talked through my pathways and options. It was so comforting being able to speak to her even though I was no longer her student. We have continued to catch-up over the years when she finished her time at Shepparton and moved back to Melbourne.
Claire: It is always really lovely just to see Lizzy's enthusiasm, to maintain our friendship and have her support of what we're doing these days. I know that no matter how much time has passed, she's always going to be in my corner; she's always going to be there to support me and is cheering me on, which is beautiful and I love it.