Recently, the US research and policy think tank the Brookings Institute has been investigating how successful education programs have been scaled around the world.
As part of this project, known as Millions Learning, the Brookings Centre for Universal Education took an in depth look at how the Teach For All network has supported entrepreneurs in 40 countries to launch organisations that share a mission and model: harness outstanding talent to develop their teaching and leadership and expand educational opportunities to the most disadvantaged children.
Teach For All was co-founded in 2007 by the founders of Teach For America (founded in 1989) and Teach First (founded in 2002).
Partners are invited to join the network based on their alignment with Teach For All's mission, values and unifying principles, which focus on developing leadership to strengthen the education system.
Despite operating in a wide range of contexts, the Teach For All model has proven relevant in addressing common problems: low socioeconomic status is too closely linked to poorer educational outcomes and the low status of teaching as a profession means that it does not always attract enough of the most talented individuals. In just nine years, 38 new partners have joined the network, bringing thousands of leaders into education.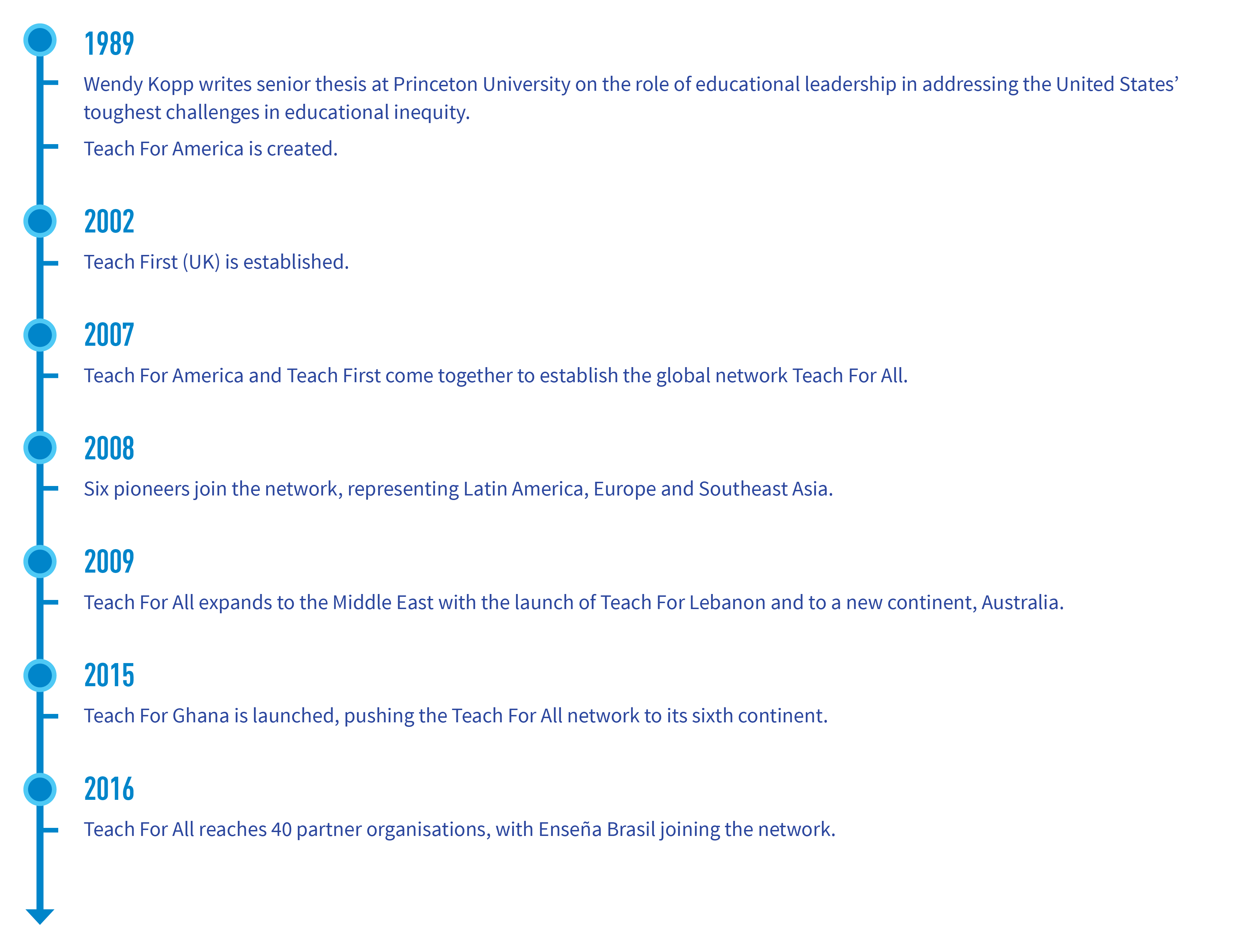 Teach For All partners have seen impact at all levels: amongst students, participants (Associates) and alumni and across education systems.
Students: studies have shown that students taught by Teach For America, Teach First and Enseña Chile teachers have made greater academic progress than students taught by other teachers.
Participants and alumni: 65 percent of Teach For America and 74 percent of Teach First alumni continue to work in education as teachers, school leaders or in education policy, research or community organisations. A recent Harvard University study found that participation in Teach For America increases the likelihood of pursuing a career in education and leads to a stronger belief that children from low-income backgrounds can have the same academic achievement as children coming from more affluent backgrounds.
System level: many alumni go on to education leadership leading to system change, such as the eight Teach For America alumni recognised in Forbes 30 Under 30 (in education) 2015 edition for their leadership in education technology, curriculum design and training.
The case study finds that Teach For All has successfully adapted and scaled its impact through:
addressing a universal problem with a simple idea and a core approach, yet adaptable to the needs and priorities of any country;
balancing ongoing support (in key areas such as organisational development, teacher recruitment, teacher training and support and how to attract public and private sector support) with autonomy over organisational funding, staffing, program and branding;
growing naturally through local demand (at any one time up to 20 or more entrepreneurs may be approaching Teach For All with business plans to create a local organisation); and
leveraging strong working relationships with government.
Being part of the Teach For All network allows Teach For Australia to leverage the experience of leaders in other countries, while adapting our approach to the Australian education system.
While focused primarily on low and middle income countries, the Brookings Institute's recommendations to create strong education ecosystems and scale quality learning for all children apply to Australia as well:
Develop a culture of R&D in education.
Share new ideas through a network of idea hubs.
Activate talent and expertise outside the classroom.
Fund the middle phase.
Measure and learn what works through better learning and scaling data.
Read the report