The Melbourne Declaration on Educational Goals for Young Australians recognises the social and economic importance of improving educational outcomes for young people in our country (MCEETYA, 2008).
Despite these goals being set almost ten years ago, recent figures show an alarming number of young Australians are disengaged from education or the workforce – one-in-four 19-year-olds leave school without completing Year 12 (Mitchell Institute, 2015). On top of this, students from schools serving disadvantaged communities are significantly more likely to be behind their advantaged peers in achieving these milestones, suggesting an unequal distribution of educational opportunity in Australia.
Following on from their 2015 research, the Mitchell Institute has released a report to outline the cost to both the taxpayer and the community of young Australians who do not complete Year 12 (Mitchell Institute, 2017). (This report also details the cost of 24 year old Australians who are not involved in full-time work or study, however this is not the focus of this article.)
Through recognising the positive social and fiscal impacts of Year 12 completion, it stands to reason that when an individual doesn't complete high school, the resultant cost to the community and the taxpayer can be enormous. The Mitchell Institute's 2017 report, "Counting the costs of lost opportunity in Australian education", quantifies this expense.
Lost earnings, additional health expenditures and the cost to victims of crime can be collectively bucketed as social costs. These costs are at the expense of the broader community. The average lifetime social cost of an individual not completing Year 12 is $616,200 from age 25 to 64.
Lost tax revenue and elevated government expenses are examples of fiscal costs. These costs are paid for by Australian governments or taxpayers. The average lifetime fiscal cost of an individual not completing Year 12 is $334,600 over their adult years.
Given that it is estimated there was almost 38,000 19-year-olds who would remain as lifetime school leavers in 2014, the combined cohort expense of not finishing Year 12 equates to $23.2 billion in social losses and $12.6 billion in fiscal losses. Overall, these costs are a massive expense to the Australian economy. Further, not only are these costs alarmingly high, they are also thought to be very conservative.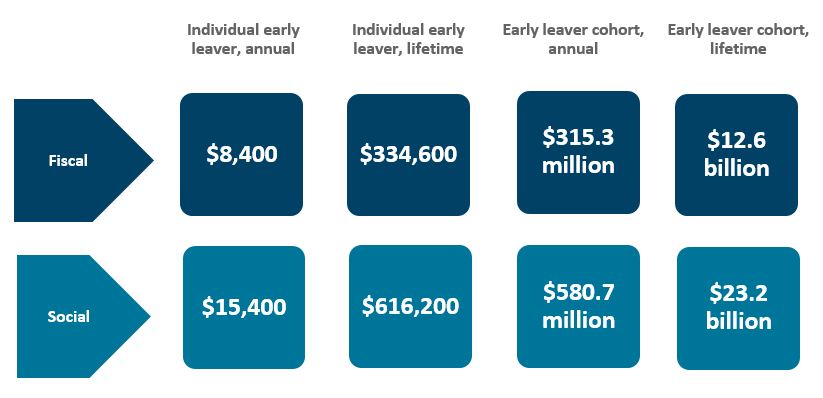 In addition to the cost to communities and taxpayers, the private cost to individuals that do not complete Year 12 can be debilitating.
On top of decreased employment and income prospects, early school leavers are more likely to experience criminality, public welfare dependency and poorer health than those with higher education attainment levels.
The significant costs associated with early school leavers emphasises Australia's need for educational reform. For our country to maximise prosperity, we cannot afford to do nothing. In addition to the government identifying targeted policies to tackle this lost opportunity, teachers and school leaders can introduce strategies in schools right now to encourage Year 12 completion.
In collaboration with the senior school and careers teams, Teach For Australia Alumni Sophia D'Ambra did exactly this during her time as Year 11 Coordinator at Melton Secondary College. As part of her Impact Initiative while participating in the Teach To Lead program, Sophia identified that Year 11 students enrolled in the Victorian Certificate of Applied Learning (VCAL) were more likely to show behaviours of disengagement, such as missing class and commenting that they felt they weren't getting value from their time at school. This positioned these students to be at risk of leaving school prior to Year 12 completion and without the valuable skills and qualifications that the VCAL certificate provides.
To understand the underlying causes contributing to this cohort's disengagement, Sophia and colleagues worked with the students to understand what they needed from the VCAL program for it to feel more meaningful to their lives and career aspirations.
Consulting the students enabled Sophia and the senior school and careers team to identify that
students faced knowledge and skill gaps that was preventing them from authentically engaging with the VCAL curriculum; and
structural and process barriers were hampering students' efforts to meet the requirements necessary for VCAL completion.
Sophia and colleagues used this information to put in place strategies to address each underlying cause. This involved
implementing a VCAL induction program;
organising compulsory parent-teacher interviews to discuss each student's VCAL placement;
incorporating resume-writing skills into VCAL literacy classes;
overhauling the timetable requirements of VCAL students to enable them to more easily participate in work experience (a requirement of completing the VCAL program); and
the employment of an additional careers coordinator and Vocational Education and Training coordinator.
As a result of these curriculum and structural changes, the Melton Secondary College VCAL program is on a path towards continuous improvement. To date, this has resulted in an increase in the number of students who received competitive apprenticeships and traineeships. Further, 100% of Year 12 VCAL students have been eligible to receive their VCAL certificate.
These students are now provided with an enabling environment to engage with the revised VCAL program to the benefit of their long-term career aspirations and by extension, the Australian economy.
References
Ministerial Council for Education, Employment, Training and Youth Affairs (MCEETYA). (2008). Melbourne declaration on educational goals for young Australians. Melbourne, Australia: MCEETYA.
Mitchell Institute (authors Lamb, S. & Huo, S.). (2017). Counting the costs of lost opportunity in Australian education. Centre for International Research on Education Systems, Victoria University, for the Mitchell Institute. Melbourne, Australia: Mitchell Institute.
Mitchell Institute (authors Lamb, S., Jackson, J., Walstab, A. & Huo, S.). (2015). Educational opportunity in Australia 2015: who succeeds and who misses out. Centre for International Research on Education Systems, Victoria University, for the Mitchell Institute. Melbourne, Australia: Mitchell Institute.