Teach For Australia CEO and founder Melodie Potts Rosevear is taking on Mount Everest, in what is in equal parts a personal and professional quest. In doing so she seeks to raise funds for Teach for Australia and our sister organization, Teach for Nepal.
Melodie recently revealed to Teach For Australia that for the first two weeks of November she will be climbing to Everest Base Camp. Melodie is currently in Kathmandu, Nepal for the global gathering of the Teach For All community, and recently revealed to staff her ambitious goal (a plan in the works since January) to stay on afterwards and tackle Sagarmatha (the Nepalese name for Everest).
Melodie explained that she thought it was the perfect chance to celebrate her upcoming 40th birthday and also to celebrate the fact that Teach For Australia is on the verge of entering into its tenth year, along with the Teach For All network which includes one of our sister organisations, Teach For Nepal.
We sat down with Melodie on the eve of her departure to learn more about the trip.
How did you hear about the opportunity?
Every year the Teach For All network gathers together in a location hosted by a partner organisation. It's an opportunity for Teach For All staff as well as education stakeholders and experts to come together to explore, learn and further interrogate the work that we do. This year the conference is being hosted by Teach For Nepal.
Teach For Nepal reached out to those attending the conference and offered us an opportunity to join an organized trek with other Teach For All CEO's as well as Teach For Nepal staff and participants of the program to Base Camp at Mount Everest.
It is a fundraiser for Teach For Nepal, and I've decided to extend this focus given the approaching 10th anniversary of Teach For Australia to raise funds for both, as part of my own birthday milestone which is fast approaching.
What were your initial thoughts on the trek?
I found it to be very timely! I was in the midst of creating my personal annual calendar at the beginning of the year when the invitation came out. I wanted to do something to celebrate both turning 40 and Teach For Australia moving into its tenth year of Associates in the classroom, and this was the perfect chance to challenge myself to do something different.
I was born in the Appalachian mountains, so I have always been a mountain girl at heart. We used to spend our holidays when I was child in the mountains camping, hiking, fishing, and the like, so the thought of getting back into the mountains sits well with me. And really, these are THE mountains, right?
What are the main reasons behind going ahead with the trek?
There are a couple of reasons why I want to tackle the trek. The challenge of reaching Base Camp speaks to me on a personal level. I think walking is a great form of meditation, you get in a rhythm. I'm sure I'll be reflecting. One of the things I'm sure I'll reflect on is how far Teach For Australia has come in ten years. I'll also be thinking ahead, what does our mission and strategy ask of us next? Part of what I know the future will take is to ensure greater community support for this mission and our work in it, which is why I want to raise funds for Teach For Australia.
Part of the funds I raise through the trek also allows me to give back to Teach For Nepal for the knowledge that they will share throughout the global conference, including visits to see their approach to this mission of educational equity in action.
The final reason for doing the trek is that it is quite a significant personal goal. I love my life, my family, my son, my job and the mission of Teach For Australia, but I must admit that I am often a bit too work focused, a lot of the time. So the trek is a chance to get back into nature. And of course turning 40 brings its own reflections!
Now Mel, we know you love your stats, can you tell us a bit about the trek itself?
• The Everest Base Camp trek from Lukla to EBC and back is about 130km long – 65km each way.
• The trek takes around 12 days, the actual distance we will be covering each day will vary because the higher you go, the harder it gets.
• There is 1/3 less oxygen available to your lungs at EBC, due to less atmospheric pressure helping oxygen get into your lungs (not actually less oxygen in the air mix).
• Base Camp is at 5,380m above sea level (about 18,000 feet), and we might go as high as 5,600 if we do a side ascent.
• There is evidently wifi at Base Camp (or so someone told me). I don't think I'll pull out my device though, seems to defeat the purpose I think!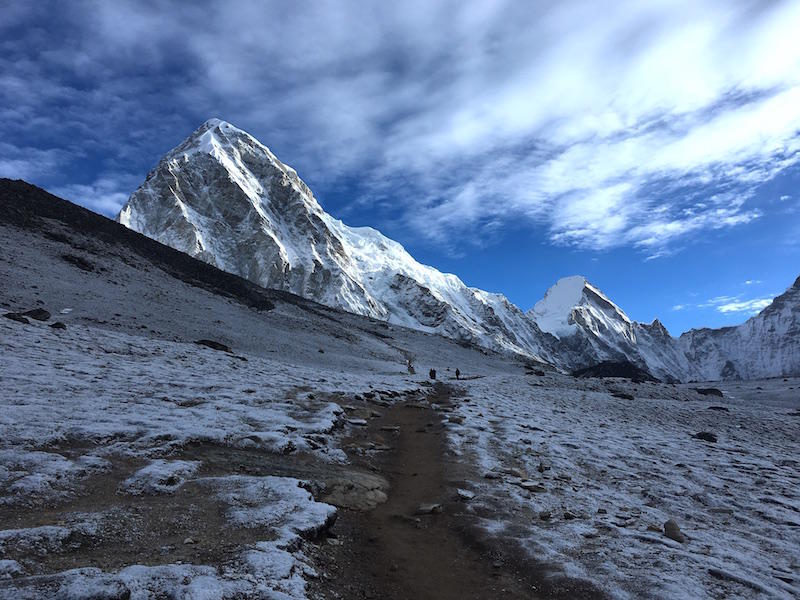 How has your training gone?
To be completely honest with you, it could have been better! While I've certainly improved my fitness over the year, I definitely think that I could have done more. The past two months have been a setback – I had a vicious virus that actually caused some sudden onset hearing loss and put the whole thing in jeopardy. Luckily I have regained most of my hearing and the doctors yesterday gave me the all clear – just in time!
What are your biggest fears for the trek?
The altitude sickness is my biggest worry. You can't really train for altitude and it is something that randomly affects people. I do have medication just in case, but even still there is a chance it won't work or I could be one of the people that altitude really hits hard.
There is definitely a part of me that will be gutted if I can't make it to Base Camp. I'm a very action and goal-orientated person, I know I'll be disappointed if I don't make it. But in saying that, if in fact I can't make it, I'll go as far as I can and I will use it as a different learning opportunity and reflect that success isn't a straight line. The communities along the trail are Buddhist and a core Buddhist principle is acceptance without judgement, so it will be a good experience either way.
How can we help you on the trek?
My goal is to raise funds for both Teach For Australia and Teach For Nepal. As it is a personal endeavor and because of my recent health I was unable to finalise the trip until recently, I'm being modest in my goal. For my 40th birthday, I'm hoping 100 friends and colleagues will be willing to donate $40 each, offering a total of $4000. It's what I'm telling everyone I want instead of a birthday present. Even though it is a modest amount, it is enough to support Teach For Australia's efforts to physically get an Associate into one of our communities. And it is enough to support an individual Teach For Nepal teacher stipend. Of course, I'd love to exceed this goal and do even more! Every little bit counts.
---
We wish Melodie the best of luck as she embarks on this great adventure. If you are inspired to help Melodie reach her fundraising target, click here and donate.