Teach First has released a study on the career trajectories of their Alumni (known as Ambassadors) who have stayed in teaching, finding that Ambassadors are over seven times more likely to move into senior leadership positions in schools than their peers trained through other pathways.
Almost 60 per cent of those who have completed Teach First since 2003 remain in teaching, while more than two-thirds continue to work in organisations that support low income communities.
The study conducted by the Education Datalab, The careers of Teach First Ambassadors who remain in teaching: job choices, promotion and school quality, compared the career profiles of 3,200 Ambassadors to a matched group of the same number of teachers who began a full-time Postgraduate Certificate in Education (PGCE) course at a same time and who had similar background characteristics (gender, ethnicity, age and teaching subject).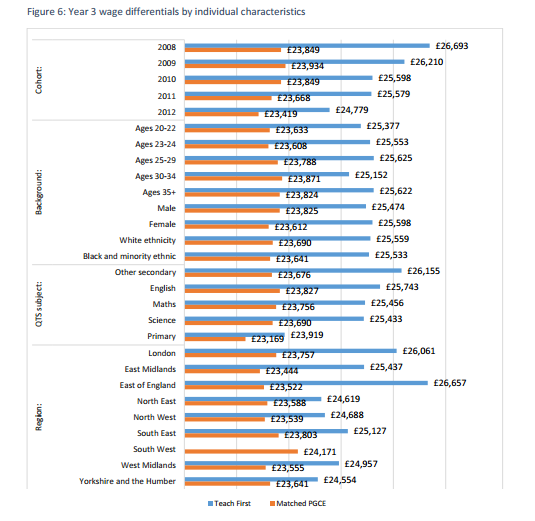 The study found that Teach First Ambassadors:
are seven times more likely to be in senior school leadership positions;

For example, from the 2008 cohort of Ambassadors, one principal, two deputy principals and 22 assistant principals have emerged, compared to just one deputy principal and two assistant principals from the matched teacher route.
earn on average £3,000 and £6,000 more by years three and five in teaching;

The wage data suggests that Teach First Ambassadors are taking on significant middle leadership responsibilities early on in their careers.
are three times more likely to be teaching in schools serving low income communities three years after starting to teach; and

The average Teach First Ambassador's school has a far higher free school meals proportion than the average school. The majority teach in schools rated by the United Kingdom's school quality regulator, the Office for Standards in Education, Children's Services and Skills, as "Requires Improvement" or "Unsatisfactory".
stay in teaching during the program and post program.

Teach First Ambassador retention in teaching is higher than that of the matched teacher group for year two, but is lower from year three onwards.
Teach First has said that the research "will inform how it can best support trainees' progression, and supply schools serving low-income communities with individuals they are confident in taking on leadership positions".
Learn more