To celebrate the launch of Teach For Australia's Reconciliation Action Plan (RAP), we sat down with Carly Farrugia (Cohort 2016) and her students at Yirrkala CEC, to learn more about the traditional Indigenous artwork that accompanies Teach For Australia's RAP.
Yirrkala CEC is located in North East Arnhem Land, in the community of Yirrkala. The school caters for students from preschool to Year 12 and has an enrolment of approximately 200 students. While the majority of students come from Yirrkala itself, children from Gunyangara, Galupa and Birritjimi also travel by bus each day to attend Yirrkala School.
In 1948, Frederick McCarthy, as part of an American-Australian Scientific Expedition to Arnhem land, collected and recorded 193 string figures known in Yolŋu as matjka. His principal guide and collaborator, Ŋarrawu Munuŋgur could replicate a large number of designs suggesting that for Yolŋu, string figure making was a highly developed cultural practice.
Earlier this year, the Buku-Larrŋgay Mulka Centre in Yirrkala engaged senior students from Yirrkala CEC to be involved in an iteration of a past project in which the string figure designs are made and by slipping the finished figure off the maker's hands, turned into prints using a soft-ground etching technique.
This iteration involving students from Yirrkala CEC succeeded in engaging young students, and they became so engaged that the exhibition was in fact opened at the Gapan Gallery at the GARMA festival in 2019.
Off the back of this project, senior art students continued to explore these string figure designs using the process of cyanotype printing – a photographic printing process, using a two part chemical substance that can be applied onto any natural fibre surface; cotton, paper and linen, producing a cyan-blue print once exposed to sunlight.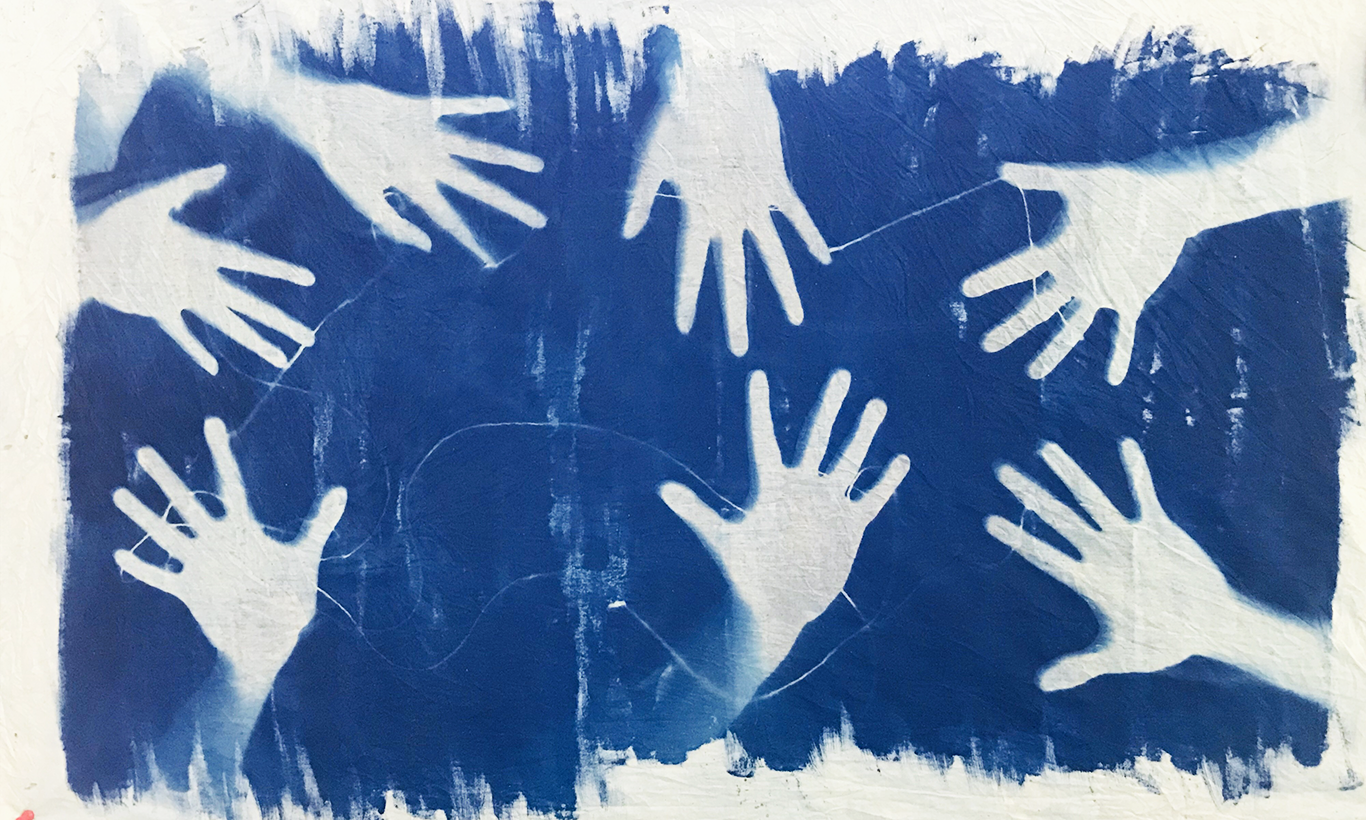 A small group of students from the class decided to incorporate both the string and their hands in a larger scale group work, lying still in the sun for 15 minutes with their hands wrapped in string, intertwined between their fingers and outstretched on a piece of cotton painted in cyanotype chemicals, the artwork was made.
When the idea was put to the class to create an artwork for Teach For Australia's Reconciliation Action Plan it was agreed that this artwork was something that represented the Yirrkala CEC senior art class in its entirety.
It represents these artists within the community as the younger generation becoming familiar with and linking into old Yolŋu skills and practices and using these to tell their own stories in new and exciting ways as the artists of the future.
"This artwork represents us, Banumbirr (morning star) class, all together," said one student from Carly's class. "It represents the land and our hands connected to the land, our hands on the land," said another.
---
Teach For Australia would like to thank Carly and her students at Yirrkala CEC for creating such a magnificent piece of art to accompany our newly developed Reconciliation Action Plan.