Teach For Australia has committed to a path for reconciliation, and we try to ensure that every day we are encouraging our organisation and the communities we work with to take positive steps towards this vision.
Our Reconciliation Action Plan records our commitments, and these include that we will cultivate and demonstrate deep respect and humility for the thousands of years of culture, knowledge, and ways of learning that Aboriginal and Torres Strait Islands Australians steward.
Our RAP also commits us to acknowledging Aboriginal and Torres Strait Island rich histories as well as the ongoing impact of colonisation and successive policies which have contributed to the significant challenges and barriers facing First Nations people.
In line with these commitments and alongside our strong belief that we must be 'always learning', a group of our TFA community in Western Australia recently participated Wogga Warniny.
This immersive experience workshop was generously led by Noongar Whadjuk Elder Professor Simon Forrest, who is Curtin University's Elder in Residence, and Minang Ngadju woman and educator Roni Forrest.
In their own words, two of the participants, Tom and Caitlin, share the workshop experience with our wider TFA community.
---
On October 24, a group of TFA Associates, Alumni and staff joined Emeritus Professor Simon Forrest and Minang Ngadju educator Roni Forrest in an insightful and moving workshop called Wogga Warniny.
Simon has a close association with Curtin University as an Elder in Residence and has been Western Australia's longest serving Aboriginal academic. He has been recognised for his dedication and commitment to making a difference through the education of Aboriginal and non-Aboriginal people across WA. Roni brings a wealth of knowledge from her experience as an educator of over 30 years.
Wogga Warniny – Noongar translation for 'blanket' and 'doing' – has been developed by Simon and Roni and is based on an interactive educational program called The Blanket Exercise. The Blanket Exercise was created by the Canadian justice group KAIROS in collaboration with Indigenous Elders as a unique, participatory program, designed to educate people on Canadian Indigenous history while fostering respect and reconciliation.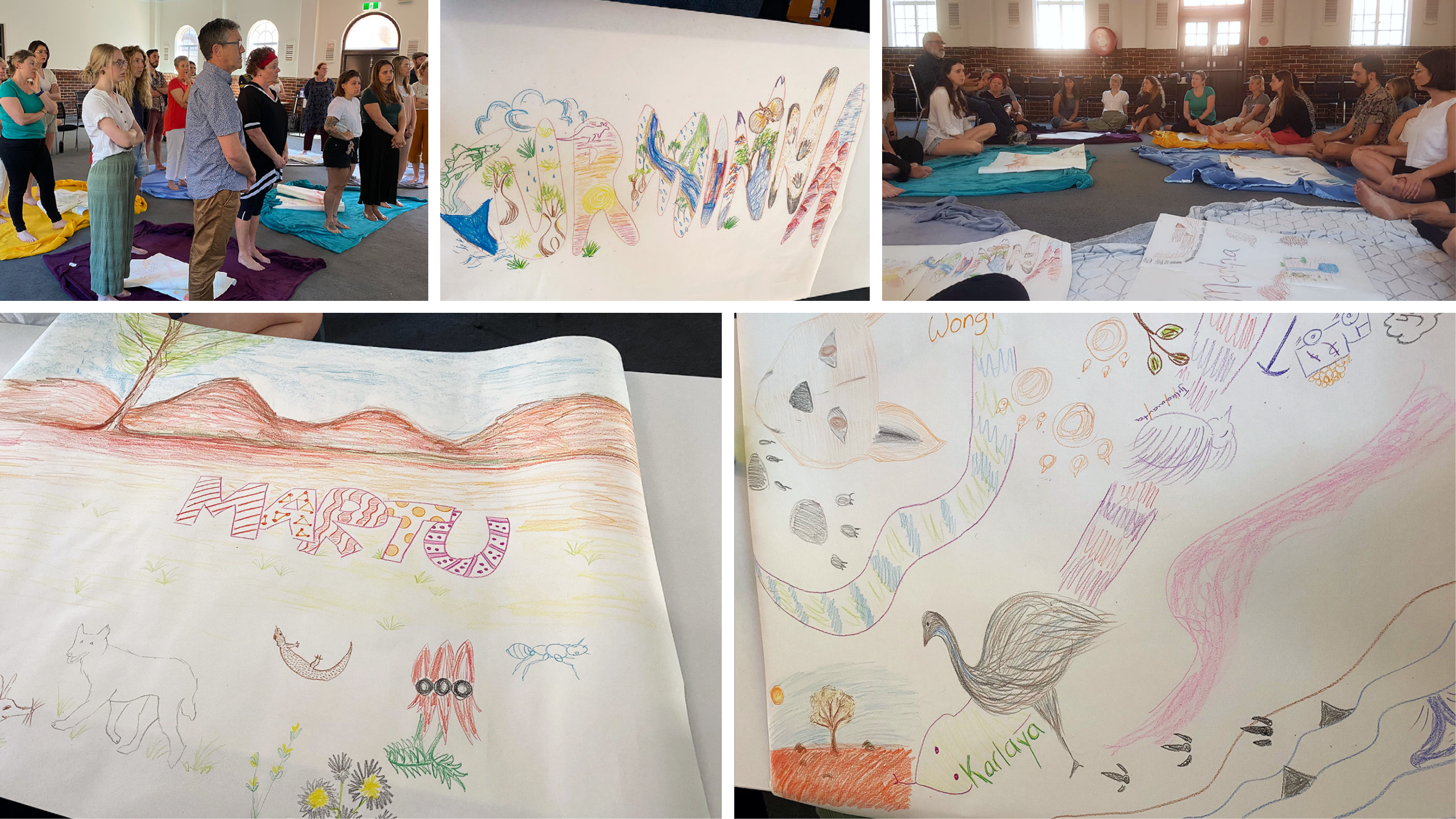 After participating in the Blanket Exercise at the World Indigenous Peoples' Conference on Education in Toronto in 2017, Simon sought and was granted permission to adapt the program and use it to teach the shared history of colonisation in Western Australia.
After a brief introductory discussion about his experience with the Blanket Exercise and the differences between Aboriginal and Western perceptions of time and history, eager participants were split into six separate groups. We were seated at tables around the room and at this stage, most of us had little idea of the journey we were embarking on.
Each table was allocated one of the six different Aboriginal cultural groups which occupy the land we identify as Western Australia. Using the flora and fauna of the land occupied by that cultural group, each table created a poster using paper and crayons to represent the land and indigenous people of that section of WA. This activity gave us the opportunity to learn about and connect with a part of the country that many of us knew very little about.
After a break, we returned to the space to find six blankets set up on the floor. Simon explained the blankets represented Western Australia and we were invited to place our poster on the blanket that was the geographical equivalent of our cultural group and to stand around it with our team.
The remainder of the program was a far more emotional and confronting experience. We stood, captivated, as Simon and Roni detailed the history of European occupation and colonisation through stories, pictures, video, and audio recordings. With each new settlement, confrontation, and traumatic event in our shared history our blankets were folded, posters sliced, and members of our team asked to leave, representing loss of land and significant Aboriginal casualties.
By the time we reached Kevin Rudd's 'Sorry Speech' of 2008, the energy in the space was very sombre and raw. However, Simon and Roni's final message was one of optimism. As we sat, holding hands in reconciliation they emphasised the vital importance of truly understanding the shared history of the land, of violence and colonisation, to foster respect and repair relationships.
As teachers, and residents of WA, this experience provided a much deeper and richer understanding of the historic events. A recurring theme present in the sharing circle, which concluded the session, emphasised the responsibility we all have – to take what we have learnt and do something with the experience.
On behalf of TFA, we would like to thank Simon and Roni for developing such an incredibly insightful program and for allowing us to participate in this journey.
Tom Maloney and Caitlin Woodford
---
About the authors:
Tom and Caitlin have both undertaken TFA's two year Leadership Development Program.
Tom (Cohort 2018) did his LDP placement at Lynwood Senior High School and continued teaching at the same school in 2020.
Caitlin (Cohort 2019) will complete her LDP placement at Joseph Banks Secondary College at the end of 2020.