As you know, it has been another challenging year for our education sector, with teacher shortages affecting school communities across the country.  
While there is no silver bullet to systemic issues, we know that TFA's programs are helping unlock doors for more aspiring teachers and supporting schools to develop the leaders of tomorrow.  
We also know this is collective work, and so recently took the opportunity to share some of what TFA has learned about attracting and supporting people to become quality teachers in a submission to the Federal Government's National Teacher Workforce Action Plan. 
There's no doubt that this year brought its challenges, but it also featured so many milestones to celebrate – made possible through a collective dedication to educational equity in Australia. 
Our newest teachers 
This year TFA welcomed 161 new teachers into classrooms at 94 schools across the country through our flagship Leadership Development Program (LDP).  
Cohort 2022 includes scientists, business managers, engineers, writers, even a couple of professional music and dance teachers, who joined recent graduates and academics from other tertiary fields to begin new careers of impact in education.  
The LDP's Cohort 2021 is graduating this month – the first to complete our new bespoke Master of Teaching (Secondary) (Leading Learning) with our tertiary partner Australian Catholic University – as are our Future Leaders Program 2022 Fellows.  
I'd like to take this opportunity congratulate them all – it is fantastic to see a dedicated community of education leaders growing every year!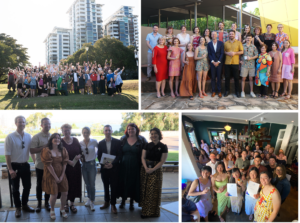 Expanding our impact
Teach For Australia's 2022 Impact Report shows our programs have now brought more than 1200 additional high-quality teachers to classrooms, reached more than 450,000 students and helped schools across the country strengthen their leadership pipelines. 
And this impact is set to expand even further in coming years. We welcomed a Federal Budget 2022-23 investment that will support us to recruit, place and train even more high-calibre graduates and career changers as teachers. 
At a time when schools need more new teachers than ever before, this funding from the Albanese Government is an encouraging boost to school workforce supply. It will enable TFA to add passionate and skilled people to classrooms around Australia – helping to fill teaching vacancies predominantly in rural, regional and remote communities.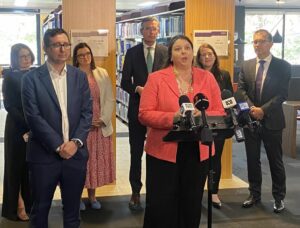 In one of our biggest milestones yet, we also announced expansion to New South Wales schools. I visited Sydney in September for a long-awaited announcement alongside Premier Dominic Perrottet and Minister for Education and Early Learning Sarah Mitchell, where we confirmed Teach For Australia Associates will work in NSW public schools from 2024.  
With the NSW Department for Education's support, we have developed a bespoke model that will help support workforce needs of NSW public secondary schools, leveraging TFA's proven expertise in recruiting and supporting people to be high-quality teachers and school leaders.  
And in news just to hand, we have since struck new partnerships with Catholic Education Diocese of Bathurst, Catholic Education Diocese of Parramatta and Catholic Schools NSW that will see eight TFA Associates work at six NSW Catholic secondary schools in Dubbo, Wellington, Orange, Lithgow, South Windsor and Granville next year. 
This will be the first time our Associates have worked in NSW schools!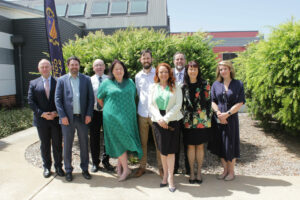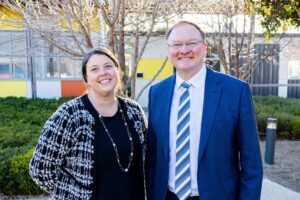 Across Bass Strait, the Tasmanian Government announced support for TFA to recruit, place and train up to 75 high-quality teachers in schools across the state over the next two cohorts.  
Minister for Education, Children and Youth, the Hon. Roger Jaensch, confirmed the additional funding while officially opening our first-ever TFA Summit in Hobart in July. 
And in our other, valued partner states and territories – the Northern Territory, South Australia, Victoria and Western Australia – TFA has continued its work supporting our current Associates and engaging with respective Departments of Education to facilitate future boosts to their teaching workforces.   
We thank all our supporters for their ongoing generosity to support our mission this year. 
Our annual Giving Day had twice the impact this year thanks to our generous partners TDM Foundation and Rokt matching every donation – with more than $195,000 raised! We are so grateful for the incredible generosity of TDM Foundation, Rokt and our entire community during this year's Giving Day. 
Our generous community also helped us to raise more than $40,000 through our Trek for Teachers earlier this year, where a group of TFA staff and supporters walked across the beautiful Larapinta Trail near Alice Springs. 
These critical funds will help us to bring more great teachers and inspiring leaders to communities that need them most. 
Bringing STEM specialists to classrooms
We also welcomed new support from GHD Foundation which will provide training, coaching and mentoring for up to 50 new female STEM-specialist teachers through our Leadership Development Program.  
Securing subject specialists with STEM backgrounds is a widespread and longstanding challenge for schools in regional, rural and remote communities – and this partnership is helping us to bring additional STEM-skilled teachers to classrooms that need them.
Delivering high-quality programs in challenging times
Teach For Australia is committed to delivering the highest quality training programs, in support of our schools and students, and we were exceptionally proud to receive positive interim evaluation reports for both the LDP and FLP earlier this year. 
The independent evaluations, commissioned by the Commonwealth Government, indicated that TFA's Leadership Development Program is an effective employment-based pathway bringing high-quality people into teaching careers, while our Future Leaders Program pilot is a well-designed, quality model that is delivering relevant, best evidence course content for rural and remote educators who aspire to leadership positions in their school communities.
A final note
I'd like to end this message by saying again how greatly we value the wide network of people who support Teach For Australia. We could not grow our programs and expand our service to schools and students without your support.  

Teach For Australia's impact is the result of collective endeavours of so many – including you.
Have a safe, restful and happy holiday season. I look forward to reconnecting with you and continuing to share TFA's news and milestones in 2023. 

Melodie Potts Rosevear OAM
Founder and CEO
Teach For Australia