How we're delivering our mission
At Teach For Australia, we are dedicated to developing leadership in classrooms and communities to ensure all children achieve their potential – but we don't do this work alone.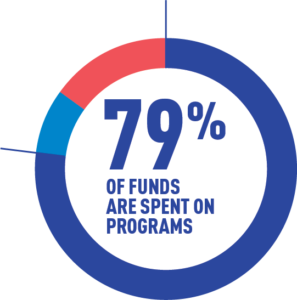 Since 2009, we have placed 1,120 teachers, known as Associates, in 229 schools across Australia. Our Associates and Alumni have taught and inspired more than 370,000 students – thanks to the support of government partners, philanthropic partners, in-kind partners as well as individual donors.
79% of our funds were spent on programs. Recruiting, placing, training and supporting teachers and leaders so all children have the education that gives them greater choice for their future is our core purpose.
Our primary funder is the Commonwealth Government. We are proud to be supported through the High Achieving Teachers Program, and are grateful for the Commonwealth's strong, consistent and bilateral partnership since 2009.
We're also supported by other organisations and people who share our vision. It's imperative that we work together to draw inspiration from our community; share ideas and vision with thought-partners; collaborate with peers; and connect with networks of champions driven to make a difference.
Our partnerships with trusts, foundations, corporate sponsors and individuals help us increase our scale and impact. They complement the support we receive from government sources and allow us to test, learn and grow.