Teach For Australia empowers talented people to become great teachers and lead others to achieve their potential.
Teach For Australia recruits some of Australia's most talented graduates, young professionals and career changers and develops them to become highly effective teachers and leaders.
The Leadership Development Program is a formative experience that ingrains in Associates a lifetime commitment to addressing educational disadvantage.
Through the two-year program, Associates build the knowledge, skills and mindsets that they need to have a positive impact on students and schools.

Developing teachers as leaders
Over two years, Teach For Australia supports Associates through ongoing practical skills development and reflective coaching.
Teaching is the core of the program. Teach For Australia sees teaching as leadership.
Designed to build the knowledge, skills and mindsets needed to positively impact students and schools, the program is underpinned by a set of research-embedded principles aligned to the Australian Professional Standards for Teachers.
Teaching and leadership development activities are delivered through a series of intensive programs, online learning, bespoke professional development sessions and ongoing peer and expert coaching and feedback.
Associates are empowered to shape their own learning, building on their individual strengths and addressing the unique challenges within their context.
A nationally accredited teaching degree
A critical component of the program is Teach For Australia's university partnership model.
Teach For Australia has partnered with Deakin University, which delivers the Master of Teaching (Secondary), providing Associates with a nationally recognised teaching qualification.
The Deakin University Master of Teaching (Secondary) is designed for concurrent teaching in diverse educational contexts.
Together, Teach For Australia and Deakin University support Associates to accelerate their successful demonstration of the Australian Professional Standards for Teachers, encouraging all Associates to reach Proficient level by the end of their second year.
The Australian Professional Standards for Teachers comprise seven standards which outline what teachers should know and be able to do. Proficient teachers:
create effective teaching and learning experiences for their students;
know the unique backgrounds of their students and adjust their teaching according to their individual needs and cultural, social and linguistic characteristics;
develop safe, positive and productive learning environments;
use feedback and assessment to analyse and support their students' knowledge and understanding; and
use a range of sources to evaluate their teaching and to adjust their programs to better meet student needs.
In contrast, other initial teacher education programs seek to ensure that their graduates reach Graduate level on entering the teaching profession, following which they need to achieve Proficient level within two-to-three years to continue teaching.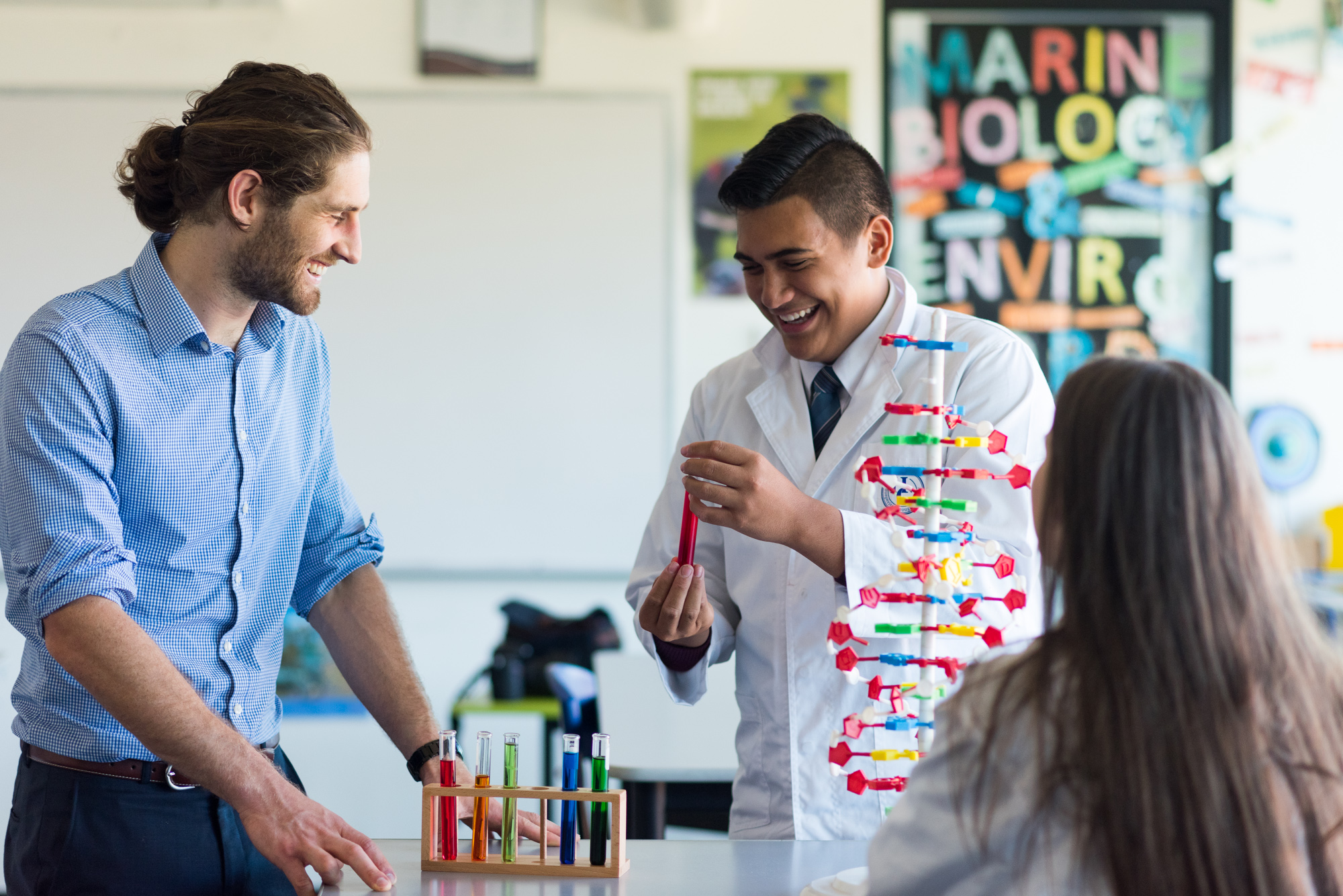 An employment-based pathway
The program offers accelerated entry into the teaching profession, providing Associates with a two-year school placement.
Associates undertake full-time employment as an entry level teacher at a Teach For Australia partner school.
Teach For Australia's approach allows Associates to immediately integrate the knowledge, skills and mindsets developed through the program to the context of their own classroom.
Before entering the classroom, Associates complete an Initial Intensive consisting of online learning, a residential program, 25 per cent of their degree and a two-week school practicum to prepare them for their teaching experience.
Teach For Australia partners exclusively with secondary schools serving low socioeconomic communities across Australia.
Associates are not surplus teachers in schools. All Associates are matched to a specific vacancy that exists to meet the needs of each school's profile, curriculum, subjects and culture.
Working in close collaboration with their fellow teachers, schools leaders and the community, Associates are placed in clusters within the same school and schools nearby to increase the opportunity for impact within the community.
Currently, Associates work in schools across the Australian Capital Territory, the Northern Territory, Tasmania, Victoria and Western Australia.
A comprehensive network of support
Associates receive ongoing coaching, mentoring and guidance from professionals working at Teach For Australia, Deakin University, partner schools and other organisations.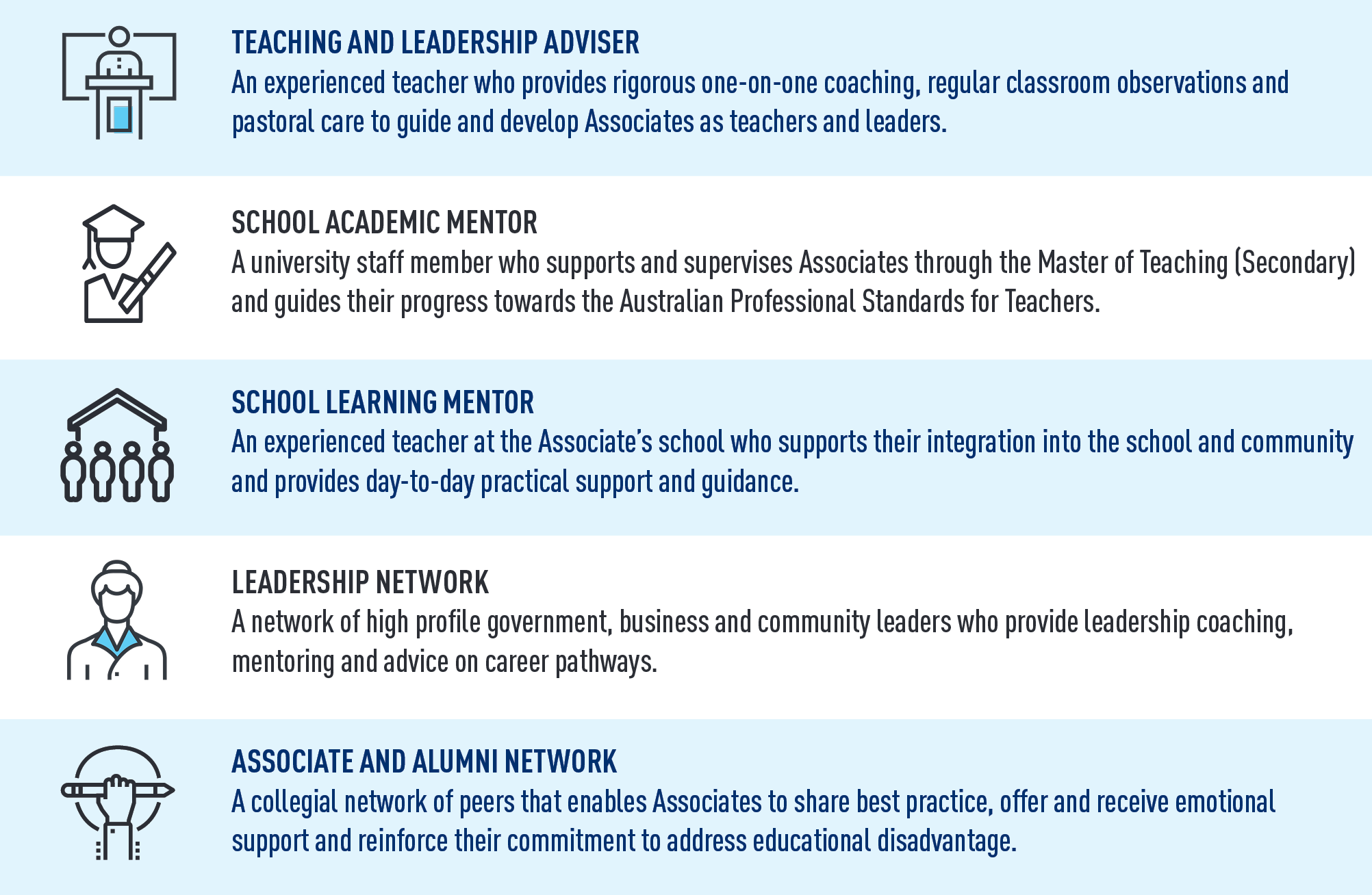 Teaching and Leadership Advisers are the cornerstone means of this support.
Through rigorous coaching, Teaching and Leadership Advisers provide targeted guidance on the development of Associates' teaching practice as well as pastoral care to maintain their wellbeing.
Deakin University staff support and supervise Associates through their degree, providing guidance to their progress within the profession and ensuring academic success.
Associates are part of a national network of teachers and leaders who all want to end educational disadvantage.
Peer relationships create a collegial network, sharing best practice, offering emotional support and reinforcing their commitment.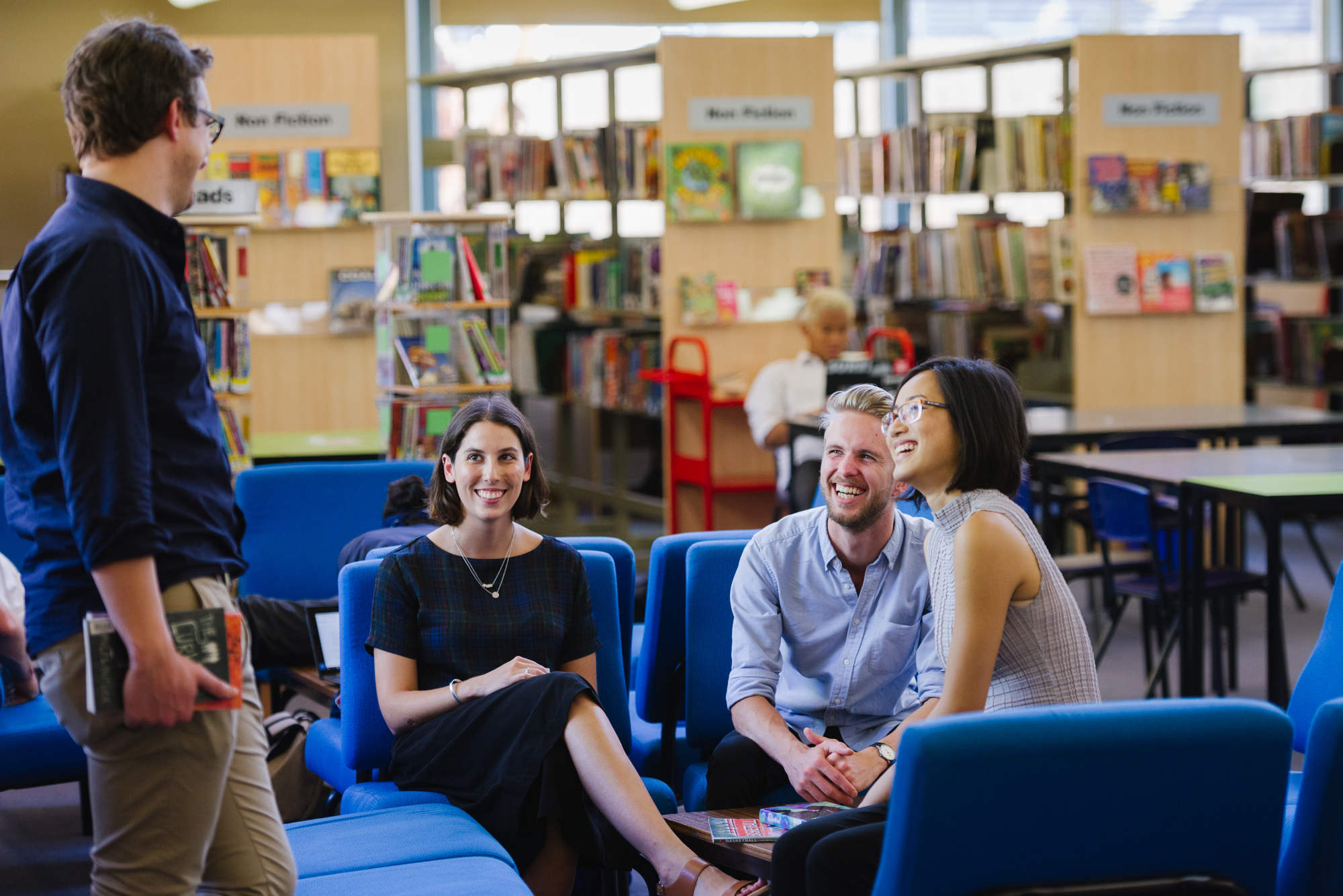 Tackling educational disadvantage
Through teaching and leadership in education, we can break the cycle of disadvantage.
Teach For Australia strives to ensure that students taught by Associates achieve significant academic growth; experience increased access to opportunities; develop positive attitudes about themselves and their learning; and develop aspirations, interests and excitement that propel them forward.
Combined, these factors support students to build a future of their choosing.