Teach For Australia welcomes today's funding announcement by the Tasmanian Government which will enable TFA to recruit, place and train up to 75 high-quality teachers in schools across the state over the next two cohorts.
Minister for Education, Children and Youth, the Hon. Roger Jaensch, announced the additional funding while officially opening the first-ever TFA Summit in Hobart today.
The funding will allow TFA to bring more high-quality graduates and career changers to Tasmanian government schools through its Leadership Development Program – helping to fill teaching vacancies predominantly in rural, regional and remote communities across the state.
Known as Associates, the program participants receive intensive training to teach in schools while completing a bespoke Master of Teaching, with ongoing coaching and mentoring to accelerate their professional development. They join TFA's mission to address education inequity – the challenge that some Australian children have less access to quality education because of where they live.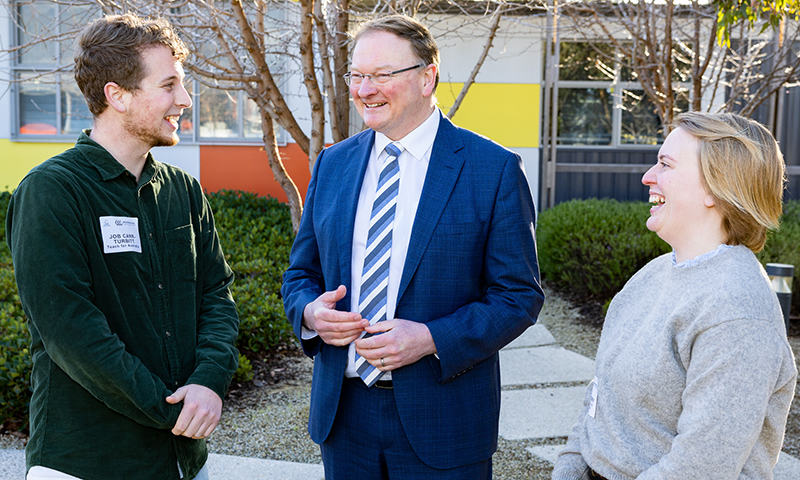 Also speaking at the Summit this morning, Teach For Australia CEO, Melodie Potts Rosevear, thanked Minister Jaensch for the continued support of the Tasmanian Government.
"We are delighted by this opportunity to continue our work here in Tasmania, in collaboration with the Department of Education and our partner schools," Ms Pott Rosevear said.
"TFA's Leadership Development Program has proven itself as the country's leading employment-study pathway into teaching and rigorously recruits high-calibre graduates and career-changers into the classroom.
"School students are at the heart of TFA's work – our vision is for an Australia where education gives every child greater choice for their future. We know helping more quality teachers to enter the profession is an immediate way to boost student outcomes.
"There are so many passionate, outstanding teachers and principals already in this state, and TFA is proud to be bringing more talented people to join them."
TFA is placing more Associates into schools across Australia than ever before, as it works to break the cycle of educational inequity in Australia.
Since partnering with Tasmania's Department of Education in 2017, TFA has brought 100 high-quality new teachers to Tasmanian government schools. This year there are 18 TFA Associates in their first year and 17 Associates in their second year of the TFA program, working in 33 Tasmanian schools.
Applications are now open until 14 August for next year's intake of the TFA Leadership Development Program.
"If you're passionate about breaking the cycle of educational inequity and ready to make a real impact in the classroom, jump online and apply to Teach For Australia today," Ms Potts Rosevear said.
The TFA Leadership Development Program is delivered as part of the High Achieving Teachers Program with the support of the Australian Government Department of Education. TFA also acknowledges the support of Tasmania's Department of Education for program delivery in Tasmania; its university partner, Australian Catholic University; and its generous philanthropic supporters.