Thursday 24 June 2021
A $60,000 funding grant provided by the Toyota Community Trust to Teach For Australia (TFA) is helping to support four first-year STEM teachers at schools in Melbourne's west.
The teachers are all Associates of TFA's Leadership Development Program. They are completing their two-year Masters of Teaching while on teaching placements at Manor Lakes P-12 College, Melton Secondary College and Hoppers Crossing Secondary College.
"Under our Leadership Development Program, Associates receive one-on-one coaching and peer mentoring for their teaching development along with academic support for their tertiary studies, accelerating their ability to become the best teacher they can for the students they serve," TFA CEO Melodie Potts Rosevear said.
"The grant provided by the Toyota Community Trust will directly help provide this tailored training and support to four teachers in the Manor Lakes, Melton and Hoppers Crossing communities."
Toyota Community Trust Chairman Scott Thompson said Toyota Australia was extremely proud to support Teach For Australia and its Leadership Development Program.
"The Toyota Community Trust was created in 2017 to honour the legacy of our history of local manufacturing in Australia, through encouraging and inspiring young people in their pursuit of further study and careers in STEM.
"Teach For Australia's mission to create empowering learning environments that enable teachers and students to excel in this area is doing just that, and makes it a very worthy recipient of this grant," said Mr Thompson.
Ms Potts Rosevear said Teach For Australia's work was grounded in a vision for an Australia where education gives every child greater choice for their future.
"We know teachers have the most powerful impact on students' learning but not every school can easily secure the workforce they need, and that's the inequity TFA's teacher recruitment and training programs aim to address.
"We also know there is a critical shortage of science, technology, maths and engineering (STEM) expertise in Australian schools, and we have high demand from our partner schools for Associates who have STEM qualifications.
"TFA now has more than a decade of experience recruiting high-achieving graduates and talented career changers who go on to be outstanding teachers, and we are fortunate to have strong partnerships with schools here in Victoria as well as the support of the Toyota Community Trust," Ms Potts Rosevear said.
Applications for Teach For Australia's 2022 intake of the Leadership Development Program are now open. For more information visit our website.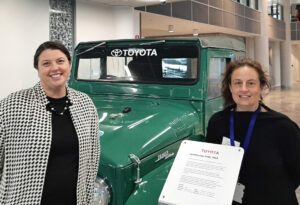 Teach For Australia CEO Melodie Potts Rosevear and Toyota Senior Community Foundation Coordinator Katarina Persic at the Toyota Centre of Excellence on Friday. 
Media contact: Deborah Cole  0409 252 217 deborah.cole@teachforaustralia.org