Teach For Australia believes coaching and mentoring to be one of the most significant tools for early teacher training. Research has consistently found that new teachers experience a range of benefits from quality mentoring relationships, including emotional support, increased confidence, improved self-reflection, problem solving capabilities and the development of classroom management practices and norms.1
Through the new Mentor Development Program, experienced teachers at Teach For Australia (TFA) partner schools will serve as in school mentors for new Associates, and will benefit from a new professional learning program that includes in person and online professional development. While mentors provide significant support for new teachers, as part of the program they will also benefit from the ability to connect with other like-minded professionals.
In school mentors work alongside Teaching and Leadership Advisers (TLA) to support new Associates' entry into teaching with one-on-one coaching, classroom observations and dedicated feedback sessions.
Kerren Diamond, Senior Manager of the Mentor Development Program at Teach For Australia has been working in school leadership positions for the past ten years and is currently working on a doctorate with the University of Melbourne with a focus on professional learning communities and peer mentoring. "As an organisation, we have invested a great deal in our new Mentor Development Program, and it has been really exciting to be able to provide such a meaningful service to our partner schools through the professional development of existing teachers, while welcoming new ones into the profession with the support that they need. I'm especially proud of the space it's built to enable stronger partnership and collaborations across our networks."
The enhanced mentoring model provides comprehensive teacher feedback for Associates through rated classroom observations and student feedback surveys, including the use of TeachBoost. The TeachBoost platform is used to capture classroom observation notes, as well as reflection conversations between coaches and mentors with their Associates about their pedagogy and development as a teacher and school contributor, linked to TFA's Leadership Continuum framework. Associates also set goals for both themselves and their students within TeachBoost, and coaches and mentors will support Associates' progress to meeting their goals via the platform.
Mentors will receive ongoing training through an online portal, which includes development modules and a regional professional learning community that allows them to discuss contextual challenges and opportunities in their region, and to build professional networks.
At an initial training event in Melbourne earlier this month, new mentors from across Victoria got together over three days to learn about how to be an effective mentor. Sessions included practice simulations and addressed topics such as understanding mentoring styles and the ethics and integrity of mentoring while learning from different coaching approaches.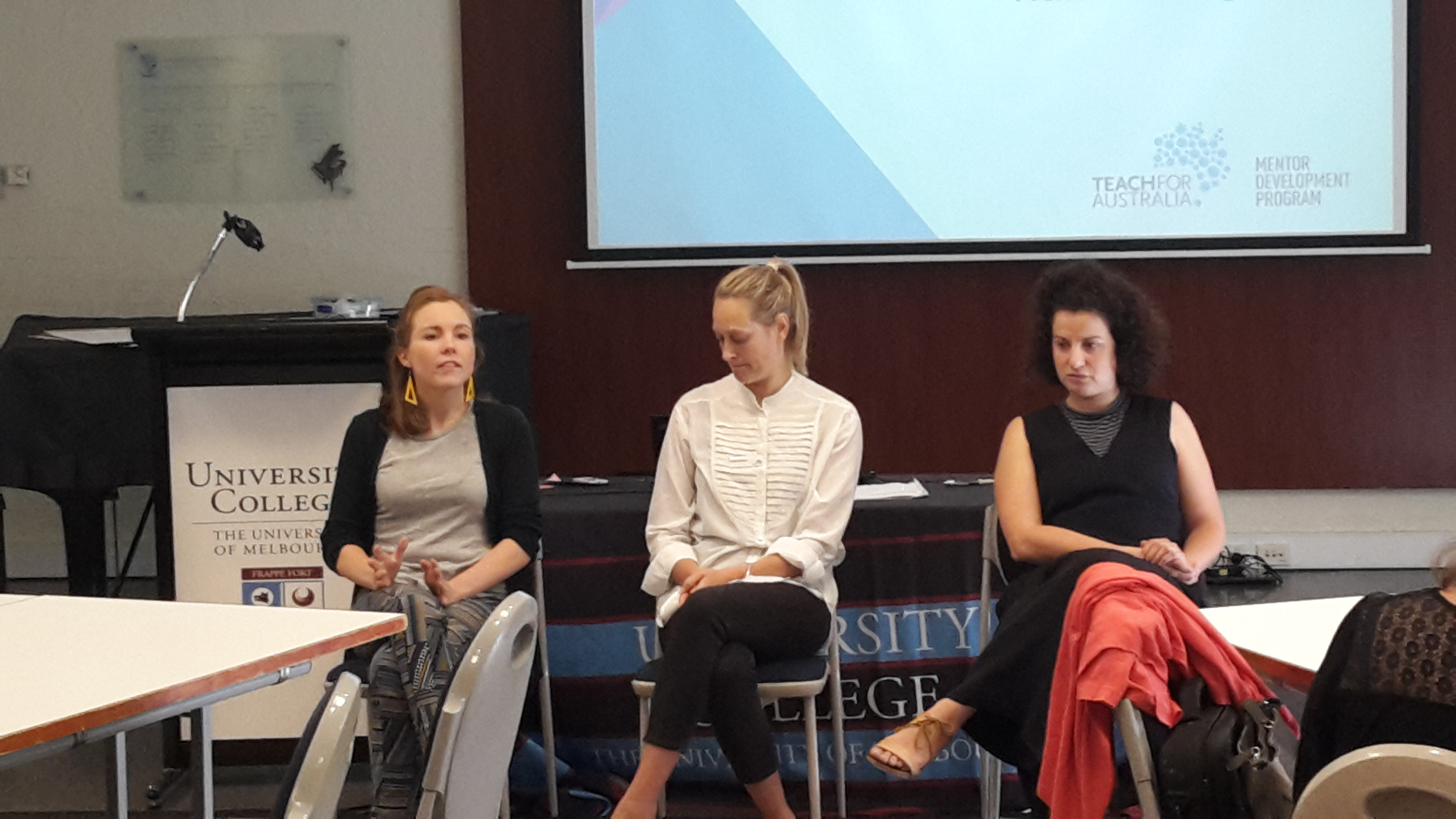 A panel of Teach For Australia Alumni shared stories from their personal experiences with mentors as part of the Leadership Development Program.
"My mentor and TLA was the most helpful thing for my training, hands down," said Viveka Simpson (Cohort 2012) of her early days in the classroom as a teacher. She is now a Teaching and Leadership Adviser (TLA) with Teach For Australia. "They both had an unwavering belief that there would be a light at the end of the tunnel."
Lana Salter, LCT Coordinator and Drama teacher at Wodonga Senior Secondary College, is a new in school mentor as part of the program, and was full of enthusiasm at the end of the three day training. "I've been mentoring teachers for years, but in the past, there was no structure. The structure of this program and training has been fantastic, and is teaching me how to be helpful in the best way possible, using best practice to give feedback – including feeding forward and feeding back – with structure that enables the mentee to take it up."
Students gain up to five months of additional learning when new teachers receive high quality mentoring2, and these benefits provide a strong foundation for mentees to begin growing as teachers and to become increasingly effective in the classroom. The relationship is mutually beneficial, with mentors also reporting benefits to their own professional development and learning3.
---
1 Reference: Hobson, A. J., Ashby, P., Malderez, A., & Tomlinson, P. D. (2009). Mentoring beginning teachers: What we know and what we don't. Teaching and teacher education, 25(1), 207-216
2 Reference: New Teacher Center (July 2017). Retrieved from https://newteachercenter.org/
3 Reference: Lopez-Real, R., Kwan, T. (2005). Mentors' perceptions of their roles in mentoring student teachers. Asia-Pacific Journal of Teacher Education 33(3), 275-287)