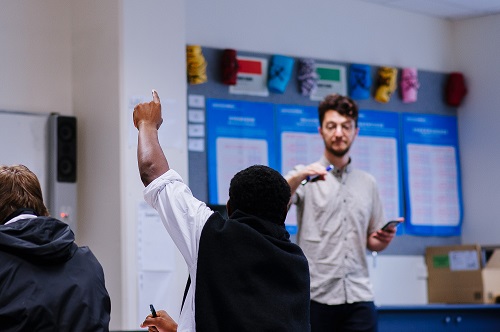 A few weekends ago, I was batting in the 19th over of a local cricket game.
I opened the batting and survived the initial onslaught against some high quality 15 year olds.
Now here I was, facing a bowler who was, conservatively, 63 years old.
After moving to Ararat I had joined a local cricket club for three reasons:
the social aspect
the exercise
because standing in a baking hot field on a Saturday is a way to get my mind off school for 8 hours.
But there I was, waiting for Stan (that's his name, probably) to bowl.
I licked my lips with glee, happy to be facing a man I anticipated smashing around the small rural oval.
A similar process happens in teaching. Many nights, I've thought to myself I've nailed this lesson plan! I'll smash this – the kids are going to learn heaps!
The lesson, in my mind, is ready to be dispatched with clinical precision, just like a crisp cricket stroke. Nothing but wild applause from my team mates and colleagues.
Invariably, the students and the cricketing Gods give their reply.
"We'll see about that, champ."
Back at the local cricket oval, Stan bowled the next ball.
I got out.
Well bowled Stan.
The best-laid plans can quickly come unstuck. The sophistication and technique I envisaged were nowhere to be found.
So it goes every time you set foot in a classroom. For all the immaculate planning, thought and anticipation, a lesson, or a day can quickly go off the rails.
I can honestly say that there has not been a day this year that I have woken up and dreaded going to work. This is in stark contrast to my previous experiences.
A few years ago, I'd listen to 'Sunday Night Safran' on Triple J. I was a lawyer. The voices of John Safran and Father Bob would fill me with dread. They were a reminder that another five days of work was less than 12 hours away.
To this day – some three years later – 'Sunday Night Safran' has a Pavlovian, depressing effect. A faint metallic taste comes into the back of my mouth; a throwback to that classical conditioning of another week trapped on the 11th floor.
This has never been the case in my short teaching career.
The strangest thing has happened: I don't dread Sunday.
My emotions can be summed up with one word: anticipation.
Paradoxically, a teaching career is the hardest thing I've ever done.
So how to explain this anomaly?
In short, teaching is fun.
How can it not be when you're surrounded by kids of varying ages, personalities and levels of ability, each bringing their own strengths and weaknesses to the table, waiting to imprint their personality on your day?
Indeed, there is a growing body of academic literature that maintains fun at work is essential for enhancing employee motivation and productivity whilst also reducing stress.
In short, hug a lawyer.
Not to mention, students are funny.
The documentary Comedian follows Jerry Seinfeld as he works to craft his act after the end of his successful run on his self titled sitcom.
Robert Klein – himself a well known comic – asks Seinfeld a question.
"Were you the funny one at school? The class clown?"
"At school, everyone's funny," Seinfeld replies.
"Then people go off and get jobs".
No teacher is immune from laughing with students. I challenge any fellow educator to deny this.
The oft-repeated behavioural mantra of 'no smiling before Easter' is a nice rule of thumb but about as realistic as the moon landing being faked: an interesting theory but unlikely to hold true.
Surely this is one of the prime reasons Teach For Australia associates are able to work consistent 12 to 14 hour days and manage the frustrations of the job.
Plainly, there are some severe frustrations with the job, whether dealing with student behaviour or motivation, or school related decision-making.
But there are too many upsides to counter the downsides.
Beyond feeling as though your work is meaningful and has social impact (as distinct from social cachet, which is clearly lacking), there is an undeniable satisfaction in seeing growth in students.
Working with students is the differentiating factor, and the undeniable truth is that to do so is fun.
It's why teachers are in the business.
Remember that next time you're stuck in a meeting with Garry from HR.
But back to the cricket.
In the next game, opening the batting once again, I scored a duck. That afternoon, I went to the local Woolworths where I saw a student. Word spreads quickly in a small town.
"Roast duck for dinner, Spinksy?" he said.
Touché.