Teach For Australia is much bigger than just our Associates, Alumni, Fellows, board, and staff. We know that to change education in Australia we need to create a movement. We need dedicated people and organisations who share our vision for equity.
The generous support from our partners and donors helps us to put great teachers and leaders in classrooms. They make a difference there every day.
---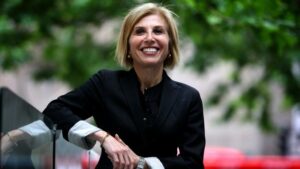 Photo credit: Sam Mooy, The Australian
 Elana Rubin is chair of Afterpay, a Director of Telstra and Slater & Gordon, and a Teach For Australia board member. Her support for TFA is driven by a desire for all children to have a life of opportunity. Her supports also honours a deep family connection to education.
Elana, what motivates you to be a part of Teach For Australia's mission?
"Education is one of the most important ways to open up an array of opportunities in life. Without a good education, your opportunities in terms of future careers, financial security, health and wellbeing will generally be limited.
A good education should not be dependent on where you live or how wealthy you are. Every child deserves access to a good education and TFA seeks to address this."
Was there anything in particular that inspired you to donate to TFA?
"I come from a family that highly valued education and I confess I took it for granted.
Looking back now I see how fortunate I was and how I should have made more of the educational opportunities I was lucky enough to have."
Could you tell us more about the Charles David Fund [your personal trust] – how it was set up and why?
"The Charles David Fund was named after my sister and father and is used to support causes I am passionate about.
My parents were always active in the community, and believed everyone has a role in developing and maintaining strong communities.
It's a privilege to be able to support TFA. I want to be part of a society where there is equal access to opportunity."
We know that great teachers and leaders change lives – was there a particular teacher in your life that helped you pursue your potential?
"The teacher that most inspired me wasn't my teacher; it was my sister.
My sister was a primary teacher who started her career teaching prep classes in a disadvantaged school. She would spend her wages on buying supplies and equipment for her class.
She went on to run the school at the Children's Hospital.
She nurtured and taught every one of her students and ensured that for the time they were in her class, they could put aside disadvantage or ill health and aspire to be anything.
She understood the impact that teachers as leaders can have on children. She would have loved TFA!"
—
Our next generations deserve Australia's best and brightest to guide them. You can help make that possible.
Join us as we grow a community of leaders committed to helping every student be all they can be. With your help, TFA will create a healthy, happy and prosperous future. All donations over $2 are tax-deductible.