Even before joining Teach For Australia, Jeremy Lu had a passion for education and teaching practice. He'd held a number of roles in the education space, from Co-Founder and CEO of an Edtech company called GroupMap Technology, sessional lecturer for Curtin University and Board member for not-for-profit community education organisation Business Foundations.
However, he wanted to take his interest further and earn a degree in teaching.
"I found the community of Teach For Australia, the support network and the cause itself a tri-factor of positive influences in making my choice."
"I was drawn to the organisation and program seeking to create change in the system," Jeremy says reflecting on his decision to apply for the Leadership Development Program. As part of Cohort 2017, Jeremy was placed at Cecil Andrews Senior High School in metropolitan Perth, where he taught Humanities, PBL and Digital technologies from year 7 to year 11.
Fast forward two years and Jeremy now finds himself back at GroupMap, due to its growth and the launch of a second product in the collaborative space. GroupMap is a tool for brainstorming with students, facilitating discussion and providing feedback. The tool allows teachers to use visual templates and graphic organisers to scaffold their lesson plan into thinking exercises and give everyone the opportunity to share their thinking in a safe, moderated way.
"When I was teaching at Curtin University, I found lecturing and didactic style to tutorials to be non-effective. So I wanted to engage the students more in terms of thinking about a problem or case study or to share their opinions in an anonymous way that was not distracting," Jeremy remembers.
As part of an E-scholar grant and an Innovation competition, Jeremy linked up Co-Founder, Brad Ward, who was an ex-Microsoft developer. Together, the pair developed a tool where they could create visual templates that were part of a lesson plan that let students share their thinking in real time either individually or as a group.
"We basically wanted to solve the problem that teachers were time poor but needed a way to see what students were thinking and to be able to easily provide feedback collectively and individually," Jeremy recalls.
"For my students I wanted them to be active in learning so that meant critically thinking about the problem, talking with others about it but then being able to write it down so that it could be shared with others." "'It's not just about another piece of technology but more about how they think for themselves, express their opinion and learn from others and practice their digital citizenship."
To date, GroupMap has over 50 templates such as KWL, exit tickets, problem solving, character analysis, design thinking, student voting and creative thinking activities. The tool also gives teachers the ability to create their own based on their subject area. Notable institutions that have been using the tool include Harvard Business Publishing, Curtin University, AEB Schwarz, and even Teach For Australia WA.
Teachers can create their own graphic organisers, decide on individual versus collaborative brainstorming styles and then use the student voice to facilitate class discussions that are more meaningful. In built profanity filters, facilitator controls and reporting are just some basic features.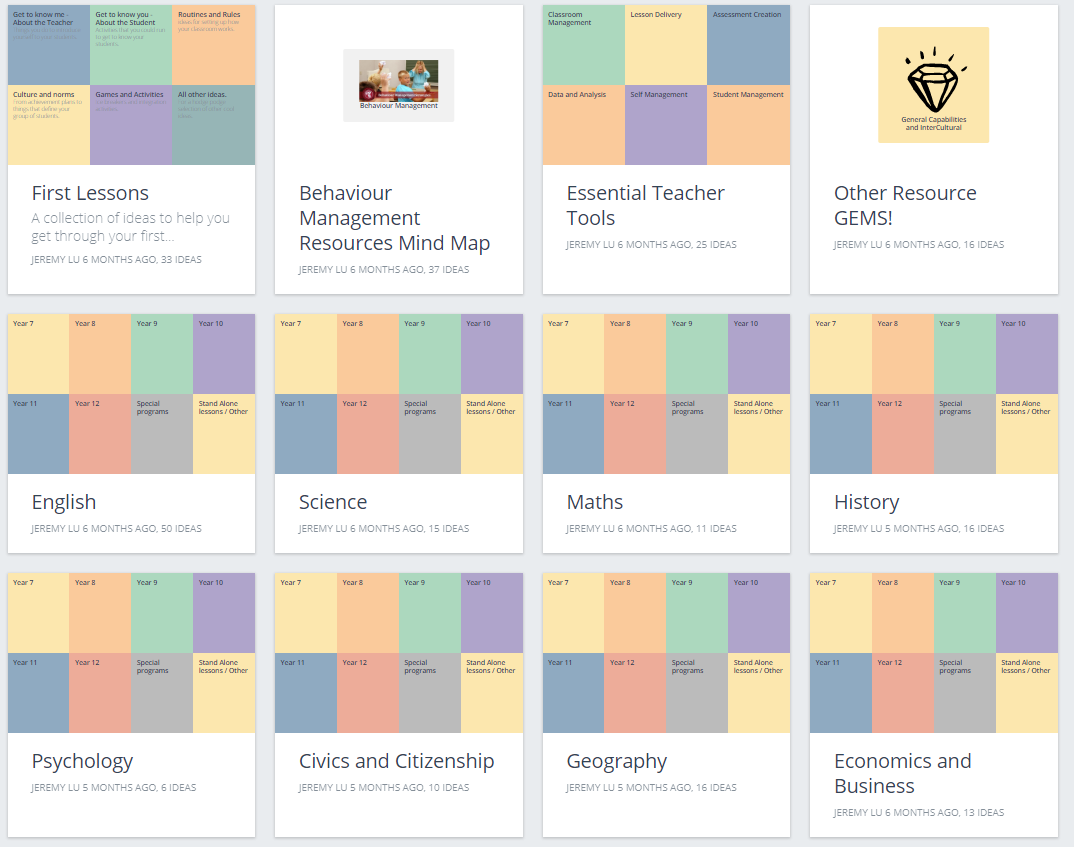 The versatility of the tool means that teachers can use it for any activity where they want to basically capture ideas. These range from general brainstorming sessions, class debates, case study analysis, or just sharing thoughts about a video, topic or character in a book. Feedback can be given in comments, ratings, scores or a thumbs up or thumbs down.
Now that Jeremy has completed the Leadership Development Program, he is excited to jump back in and become more hands on with the organisation again.
"We are looking to build our network of interested parties to create case studies and develop a community of practice," Jeremy says. "We would love to get in touch with teachers who see critical thinking, collaborative and cooperative skills are a key developmental goal."
---
Earlier this year, GroupMap was announced as a finalist in the EdTech awards 'Cool Tool' category. They currently work with clients in USA, Australia, Europe and South America. To learn more about GroupMap visit the website: https://www.groupmap.com/