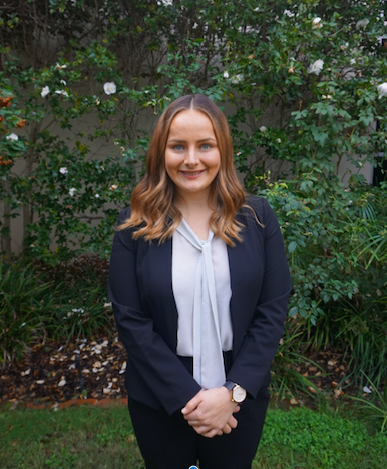 Bridget Staude is an Alumna of Teach For Australia's Leadership Development Program. Bridget was placed at John Paul College, in Kalgoorlie in rural Western Australia, where she taught humanities and social sciences.
She was recently appointed as Chief Executive Officer of WA-based not-for-profit Teach Learn Grow, which provides mentoring and tutoring services to students in regional and remote areas.
---
Why did you apply for the Leadership Development Program?
Throughout my university course I spent a lot of time volunteering with an organisation that tutors primary school students in rural and regional areas called Teach Learn Grow, which, incidentally, I have recently started working for.
During trips to regional schools I began to see how huge of an issue educational disparity is in this country.
What were you doing before you joined the program? Why did you change careers?
Prior to the program I had finished my undergraduate degree in Politics and International Relations and spent some time travelling and working overseas. I was considering careers in international development or law.
However, throughout my university course I had spent a lot of time volunteering with Teach Learn Grow. I've always been interested in social justice, and I wanted to make a difference.
The vision of Teach For Australia is that all children, regardless of background, attain an excellent education, and this really struck me as something I wanted to be involved in.
Why choose Teach For Australia instead of another pathway into teaching?
Once I had decided on teaching, I couldn't wait to get straight into the classroom and TFA gave me the opportunity to do that.
Learning on the job also really appealed me – I learnt so much from being in the classroom every day and the support from my school and my mentors and TLA allowed me to consistently reflect on and improve my practice.
The key to high quality teaching is about establishing positive relationships with students and that's not something you can learn at university. Textbooks cannot teach you how to engage with your students and their parents, it's something you learn on the job and from being part of their community.
If you could give the younger you at the very beginning of the program some advice, what would you tell her?
I would tell her not to worry about the small stuff! Just focus on building the relationships with the kids, and the rest will come.
It's easy to get caught up in syllabuses and assessments but at the end of the day, teaching comes down to building a connection with another person, so that should always be the main aim.
What are the most valuable skills you developed during the program? How have you applied them to your career?
I learnt so much through the program, about myself, my students and the education system overall. The program really helped me develop as a leader and gave me the skills required for effective leadership. I learnt effective communication, problem solving, conflict resolution and developed my confidence and resilience.
Having been recently appointed as CEO of Teach Learn Grow, the non-profit organisation I previously volunteered for, I know these skills are incredibly important and I am so glad I can apply what I have learnt to a new challenge and continue to work towards improving educational outcomes for rural and remote students.
What was the most challenging aspect of the program for you? What was the most rewarding?
It's an incredibly tough job. I worked long hours and I believe that Australia has a long way to go in recognising the work teachers do. I've already seen so many great teachers leave the profession due to burnout.
Often people don't understand how relentless the workload can be – we don't just teach and assess students, we also need to be there to counsel students, resolve conflicts, monitor student wellbeing all while trying to be a good role model. That's a huge responsibility. A high school teacher can easily teach well over 150 students a week so it can be very overwhelming.
You had to relocate to participate in the program. What did you enjoy most about that experience?
I had always lived in the city, so I was of course nervous about moving to a small town. I enjoyed it so much more than I could have imagined. I don't think I ever understood what it means to be part of a community until I moved. There are always people looking out for you and ready to help when needed, the town was very welcoming.
While I am now based in Perth, Teach Learn Grow provides free tutoring and mentoring for rural and remote students in WA and NSW. My experience teaching in Kalgoorlie taught me how much work needs to be done to close the gap in education between rural and metro students and I'm dedicated to ensuring we provide opportunities to help these students achieve their full potential.
You've recently been appointed as CEO of Teach Learn Grow. What about the future? Where do you see yourself in ten years?
I see myself continuing to work in education, but whether that is in a school or another setting I'm not sure. I want to work wherever I can see myself having the most impact.
There are a lot of problems with the education system in this country that I would like to help address. I strongly believe all Australian students deserve access to high quality education and will continue to focus on trying to make that a reality within my lifetime.