Lilli Morgan is a Cohort 2018 Alumna of Teach For Australia's Leadership Development Program. You can follow in Lilli's footsteps on the Larapinta Trail by joining Teach For Australia's fundraiser, Trek For Teachers, which is running from 4-10 July 2022.
---
The smell of squished ants.
The sweet taste of cheddar cheese.
The delicious crunch of baguette as I try to remember to chew.
The parts of my hips that start to swell with the weight.
Countered by the thoughts and fantasies
swirling around in my head. 
Recently I moved to Mparntwe (Alice Springs) from Karratha in the Pilbara region of WA. I'd been teaching in Karratha for three years and was craving a change, especially with WA's very strong border arrangements in place. I missed the East Coast but saw that it was still not a great time to move back there. So when another TFA friend called me and asked if I wanted to come work with her at Larapinta Primary School in Mparntwe, I thought… "Sure. Why not."
However, when I got there I had underestimated the recalibration it would take, and my ability to feel connected to people. Moving from a very tight community in Karratha to another tight community in Mparntwe, I was suddenly confronted with those feelings of being the outsider again. I knew it would pass, but it still felt uncomfortable to be starting all over again: with the students, with friends, with work colleagues.
Part of me was really craving to just go out bush and walk the Larapinta Trail; to ground into the new territory I was in. So after a term of teaching, I set off on a two-week journey of the Larapinta. Originally a few friends from WA were going to join me, but then with the COVID-19 lockdowns, we had to pivot our plans once again, and I ended up doing most of the trek solo. Not what I had planned, but its own gift in a way. 
I ended up doing most of the trek solo. Not what I had planned, but its own gift in a way.
I love the feeling of having to carry everything you need on your back. It's amazing the things you appreciate or start to feel weighed down by. I had dehydrated most of my meals, which became such a ritual and highlight of my day in the lead up to setting off from the historic Alice Springs Telegraph Station.
There are 12 sections to the hike which are around 15-30kms each, traversing through riverbeds, grassy bits, onto ridge tops and mountain peaks. You can do one section a day, take it a little slower and add on some days, or even a little faster.
Given it was June and the middle of winter, the days and nights were equal in time but polarising in temperature. I was carrying a tent with me for the first bit, but ended up giving it to a friend to take back with her as I tried to drop some weight. 
The tent was no huge loss as there are shelters you can sleep in along the way at each trail section end. However, when they were full, or I wanted to walk a little further, I would just roll out a ground sheet and sleep on top of it. There were definitely moments where I felt a little scared being alone in the bush, but then I settled into it, re-wiring my own narrative running around in my head. In the end, I much preferred looking at the stars than the roof of my tent for 12 hours a night. The long cold nights were made more bearable staring up at the big, beautiful, star-filled universe.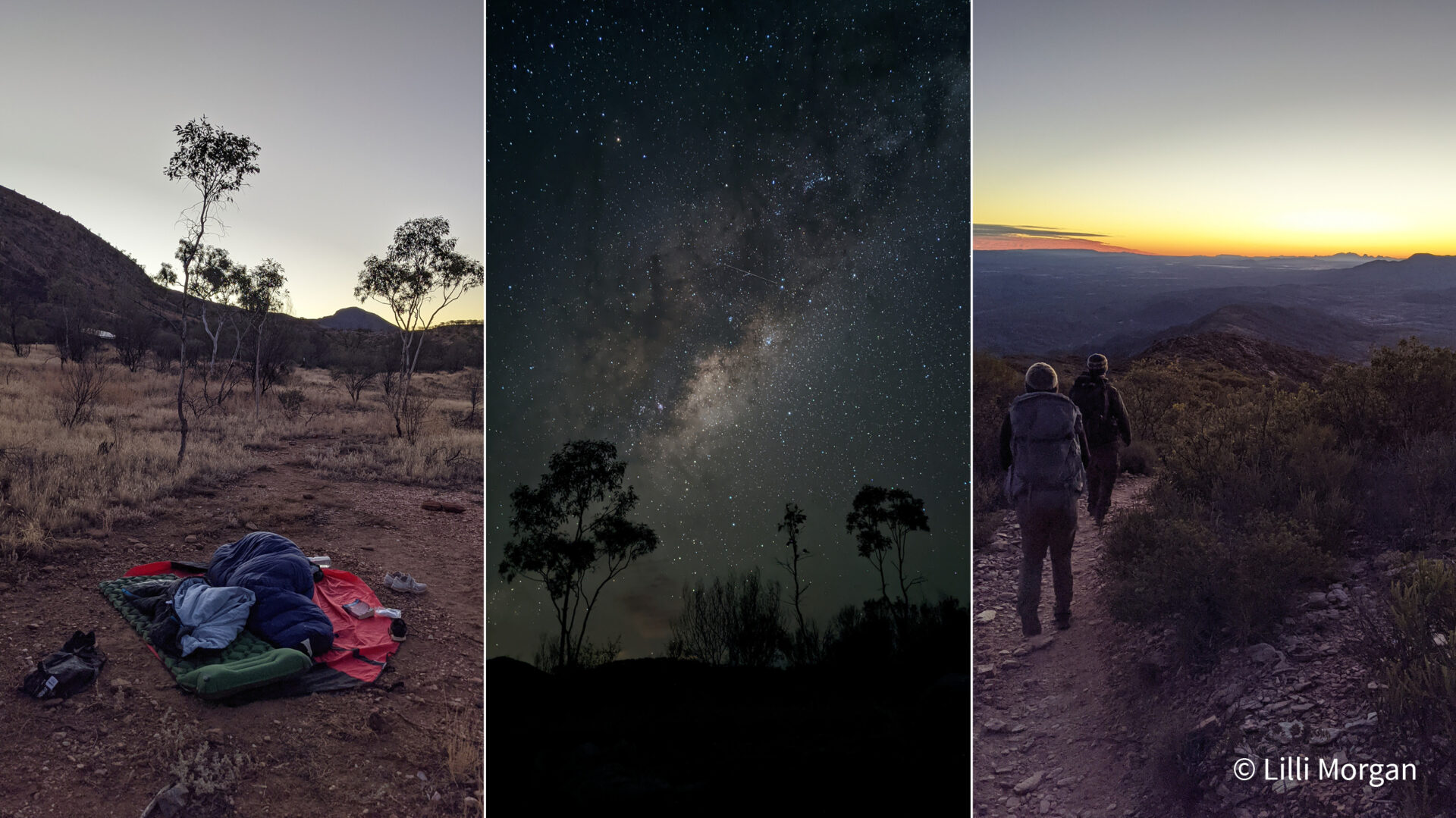 In the mornings, I'd wake at first light, grab a dehydrated bite, and set off again. Everyone's experience of the trek is so different and unique. Lots of people gave me advice but in the end, I just took each day as it came, listening to what my body wanted. I met so many lovely people along the way who were all doing similar. Sometimes they would go less than expected that day, hobbling around with sore feet, or pump through a little further, enjoying the pace. Each section is so different and worth doing so I did love being able to do it all at once, but I know that's not always possible for people with time restraints. 
I also really loved the generosity of the people that I met, the feel of my body getting stronger each day, and the way my mind was able to wind down day by day. There's a beautiful simplicity to following the blue markers, looking for human footprints and signs of life with Mt Sonder getting closer and closer in the backdrop there.
A quote that resonated with me that I heard while hiking was about self care. It said: 
Knowing the amount of solitude you need,
the activities that strengthen your creativity,
the people that light you up.
This is medicine.
– @young peublo 
For me, that's what this two-week hike was, medicine.