When it comes to jobs that make difference daily in the lives of individuals while also helping shape the equitable communities we aspire to build, it's hard to go past teaching.
Sometimes it's not until later in life that people hear the calling: that desire to support young people by sharing knowledge and experience, and to make a deeper contribution to a community's development.
But for many mid-career professionals, returning to full-time study at that stage of life isn't appealing, or even possible, and a supported work-study pathway is the way to realise their passion.
Jordana Zonaras and Troy Lowe are two Teach For Australia Alumni who did just this, changing to careers in the classroom via Teach For Australia's Leadership Development Program.
Rather than return to full-time study, the program helped them to complete their two-year Master of Teaching while working in a placement school with the support of experienced coaches and mentors.
Jordana began teaching in 2019 after studying journalism, philosophy and psychology at the University of Sydney and working as a regional journalist and later in business development for an education business.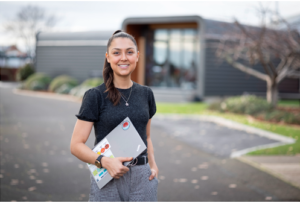 Accepted into TFA's Leadership Development Program, Jordana relocated from Sydney for a placement at Ulverstone Secondary College, Tasmania.
"I did consider the traditional study pathway to teaching, but I had been in the workforce for so long that the thought of going back to my uni days was unappealing," she said.
Troy tells a similar story. He relocated from NSW to northern Victoria for a placement at Mooroopna Secondary College in 2014 after working, researching and lecturing in the science and engineering fields. He had worked with BHP (later Bluescope Steel) and had two years as a post-doctorate research scientist at the Royal Institute of Technology in Stockholm.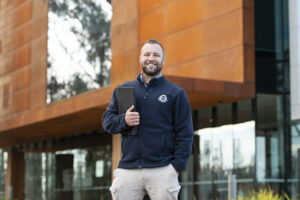 "I was intending to be a career scientist, but in my mid-30s, I felt I wanted to do work that more directly made a difference to the lives of others. I was inspired by the desire of Teach For Australia to make a difference to students in low SES communities – particularly rural and regional ones," he said.
"I had already spent most of my career studying while working and researching and the thought of sitting in education lectures for a year or two was not attractive.
"The option, through TFA's Leadership Development Program, to gain hands on experience, with a number of mentors, while learning the theory was amazing."
While Jordana's mum had tried telling her long ago that she'd love teaching, it wasn't until she came across Teach For Australia that she realised just how much a career in teaching could offer.
"The testimonials on the Teach For Australia website made me realise that despite spending my whole childhood around teachers, the classroom is really just the tip of the iceberg," she said.
"It opened my eyes to the full spectrum of opportunities and challenges I could grapple with as an educator."
Now in her third year of teaching at Ulverstone Secondary College, Jordana said her coaches and mentors went "above and beyond" to set her up for success as a teacher and a leader for her students.
"Teaching is not what we think is. Often we think teaching is standing up in front of students talking. On average, I probably do that for 20 minutes a day," she said.
"The rest of my time is spent being a coach, a cheerleader, a devil's advocate, a marker, a planner, an inventor, a therapist, a relationship counsellor, a budget manager, a snitch (sometimes you just have to call home), a data analyst, a networker and a colleague to some of the most intelligent adults I've ever met – to name some of the many hats."
Troy has remained in northern Victoria since completing his placement and is now a Leading Teacher at Numurkah Secondary College, in a rural community where "we all know each other by first name".
"You cannot put value on seeing students overcome their fear of maths, or perform a public speech, or help another student who is down," he said.
"It is the best career on Earth. It is intensely creative, demanding, purposeful and rewarding."