A Teach For Australia Alumnus with "a heart and passion" for the wellbeing and success of his students has been recognised with a prestigious Victorian Education Excellence Award.
Lowanna College's Daniel King has received the 2021 Outstanding Early Career Secondary Teacher Award in his third year of teaching.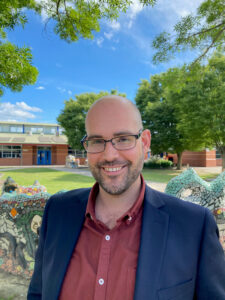 The award recognises effective and innovative Victorian government secondary school teachers who are in the first five years of their career and making significant contributions to improving student achievement, engagement and wellbeing.
Daniel's pathway to teaching was via Teach for Australia's Leadership Development Program, which brought him from Narre Warren to Lowanna College in the Latrobe Valley, east of Melbourne, in 2019.
Now in his third year at the school, Daniel has taken on a leadership role as Head of Mathematics and is also teaching chemistry.
Lowanna College Principal Adam Hogan said the school was "incredibly proud" of Daniel's achievement.
"In three short years he has proven to be an exceptional teacher, and now leader as our Head of Mathematics," he said.
"Daniel has been a key part of our significant improvement in numeracy results over the past three years, and this statewide award is very much deserved."
Daniel says the award came as a surprise – and gave credit to the Lowanna College teaching community for their support.
"It is wonderful to be recognised for the work I and others have done in the past few years at Lowanna. The school community has been so supportive of me since I moved here, and I can't help but feel like the award is for them as well," he said.
"I'm just very grateful to TFA for the opportunity they gave me, becoming a teacher has been one of the best things I've ever done. It has changed my life for the better, and now I want to try to pay that forward for others."
Daniel had already gone through a career change in his late 20s before applying to the Leadership Development Program – going from warehousing and logistics, to studying science.
He worked as a lab demonstrator with first-year chemistry students while writing his thesis and enjoyed it so much it inspired him to become a teacher.
"I came across Teach for Australia at a careers event at university and saw that fantastic opportunity they were offering to teach and work at the same time. I was intrigued, as I wanted to pursue a career as a teacher but had not expected to do so for several years," Daniel said.
"The immediate opportunity to begin teaching and learning concurrently drew me into applying for the Leadership Development Program, and I've never looked back."
Daniel admits that teaching while undertaking his Master of Teaching degree was challenging, but he was well supported by Teach for Australia and Lowanna College mentors and his wider school community.
"Studying while teaching was initially daunting, managing the time pressures and staying sane were really challenging. Having the support of my mentors…certainly helped, as they often provided some perspective about what was important," he said.
"The teaching community at my school also supported me a great deal and nurtured me in my formative first year. As my experience as a teacher grew, I became better able to manage myself, and by my second year, I was far better able to maintain a balance."
Daniel's mentor at Lowanna College, Assistant Principal Fiona Milkins, nominated him for the award.
"Dan was a natural candidate for nomination as he has a very unique set of teaching skills for a teacher still in his graduate years," she said.
"He has amazing people and relational skills, along with a voracious appetite for learning and self-development but above all a heart and passion for the wellbeing and educational success of every student regardless of the challenges of their backgrounds or behaviour."
Daniel said teaching was the most "rewarding yet challenging" job he's ever had.
"There is a lot to learn, and the first years are hard, but it is worth staying the course because you can make a positive difference in the lives of others," he said.
"This gives teaching a deep sense of purpose as you have a role in shaping the minds of newer generations, you will help them develop the tools to make their own opinions, to think critically, and to participate in and influence society.
"I'm just very grateful to TFA for the opportunity they gave me, becoming a teacher has been one of the best things I've ever done. It has changed my life for the better, and now I want to try to pay that forward for others."