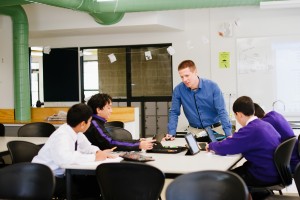 After another high paced day at school, I arrived at the local Video Ezy store to return some DVDs and saw one of the year 12 students from school working behind the counter. Just as I am handed over the DVDs, the student told me with a smile on her face that she has decided to drop out of school and get a full time job.
I was floored. What makes a student want to drop out of high school? As a capable, well-respected and valued member of the school community, why does she seem to think this is a suitable idea?
We agreed to sit down together for 15 minutes during Friday's lunch to discuss this further, map out goals for each subject and plan for the remaining months until the November exams. Before we met, I had time to reflect on and research answers to the questions that initially came to my head.
After a quick Google search, I found a helpful article in a recent contribution to The Huffington Post. Five major reasons are put forward to explain why students drop out of high school:
the students themselves;
the families that they come from;
the community that they come from;
the school that they attend; and
lastly, the teachers that they have.
Prompted by the student from the video store, I thought about the first major cause of high school drop outs, the students themselves, and wondered about the other students that I teach. As the masters of their own educational destiny, I cannot help but feel for my students that are making decisions today, such as skipping class, handing in homework late (if at all) and acting disrespectfully towards their peers and teachers, and wonder if they fully understand the consequences these actions will have later in life.
As a psychology teacher, I feel this kind of decision making highlights the importance of teaching far more than any neuroanatomy of the brain. Whilst I am mandated to deliver the curriculum, I have also taken pains to develop character traits in my students like grit – perseverance and passion for long term goals – that will inform their future choices, be it in school, work or home.
It is along these lines that I steered my 15 minute meeting with the Video Ezy student. I outlined three key reasons why she should stay in school. Firstly, she is bright and hard working. Secondly, she has already almost finished one term and has barely more than two to go. Thirdly, and most compellingly, every year, thousands of Australian students have the same thought, but, they keep at it and finish what they started.
I was relieved, when the student says that she had decided to stay at school and complete the year, seeing value in having a high school certificate. While I was not as relieved, when she says that she wants to drop chemistry, she is first going to speak to her teacher and the VCE coordinator to explain her situation. I am confident that she is at least going to make an informed decision in her best interests.