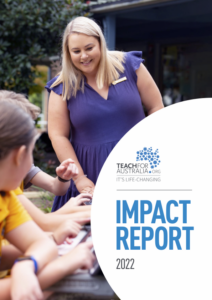 We know it will take a movement of dedicated individuals inside and outside of the classroom to reshape our nation's education system. The past three years have brought unprecedented challenges for Australia's students, schools and teachers. The impact of COVID-19 has further exposed inequities in our education system and made our work more important than ever.
Young people facing systemic disadvantage must not be left behind. Education is critical to their health, happiness and prosperity, today and into the future. Our next generations deserve Australia's best and brightest to guide them.
Teach For Australia offers leading development programs for teachers, school leaders, and mentors who can give their students the knowledge, skills and confidence to pursue their potential. This report outlines our impact over 13 years, and highlights key achievements from the past year.
We're proud of our impact. Since our inception in 2009, we've recruited, developed, supported and empowered great teachers in hundreds of schools, reaching over 450,000 young people in communities experiencing disadvantage.
In the past year alone, we've placed 161 new Leadership Development Program Associates in classrooms around the country where they're needed the most. We have a rigorous intake process and a 92% completion rate, which speaks to the quality of the training, support and coaching we invest in our people. Furthermore, 84% of our Alumni continue to teach or stay in the education sector.